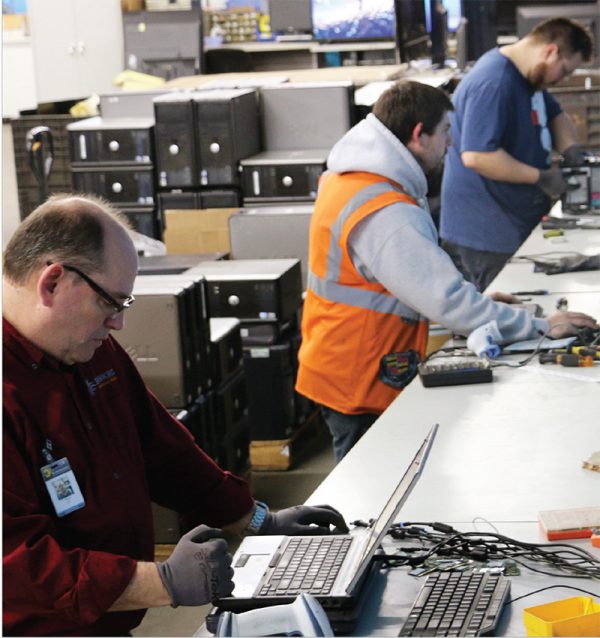 When it was founded around the turn of the millennium, Sunnking saw device refurbishment as king.
Today, the upstate New York company still resells used electronics, but it has also embraced commodities recovery as an end-of-life option for lower-value devices.
"We are excited about our new machines because [they help] us accomplish our mission to provide superior asset management and recovery services," Duane Beckett, the company's CEO, said earlier this year after a new processing line was installed. "We use proven reuse and recycling techniques that maximize asset value and promote environmental sustainability while meeting data sanitation requirements of our clients."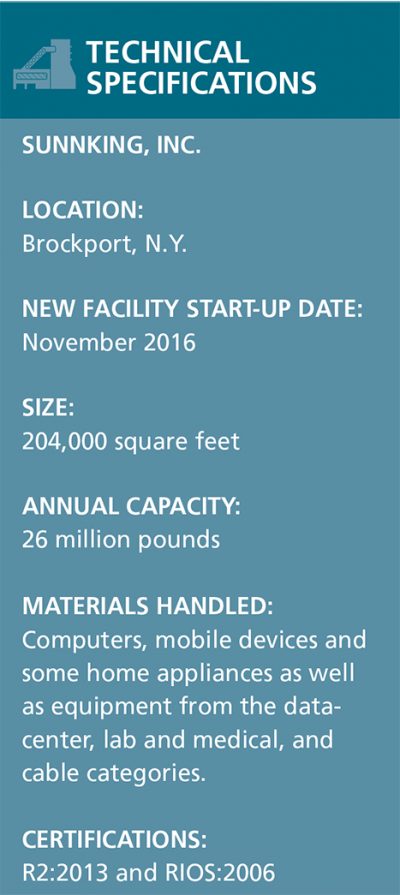 Since it started in 2000, Sunnking has relocated several times to accommodate increases in processing volumes. Last November, the company moved into its current headquarters, a 204,000-square-foot facility in Brockport, N.Y., which is near Rochester. The company expects to process 26 million pounds this year.
Sunnking also has facilities in Syracuse and Buffalo that are mainly used for transfer and aggregation.
In January, Sunnking announced its purchase of a new processing line at the headquarters location. The machinery included a Shred-Tech shredder, an American Pulverizer ringmill to liberate commodities, and a Hustler bi-metallic classifier, which uses a magnet to remove ferrous metals from non-ferrous ones. The remainder of the stream is then manually sorted on a conveyor to segregate commodities.
In addition to commodities recovery, the shredding line is used to destroy hard drives and the data they contain.
At the Brockport facility, low-value materials are first manually sorted on a conveyor belt to remove items that shouldn't be shredded. The rest of the stream enters the shredding and sortation system. Higher-value items, on the other hand, skirt the shredding and sorting system and undergo a manual disassembly and separation process. At the end of the line is a Balemaster HRB baler for plastics.
Sunnking is still highly involved in reuse activities. Sales channels for electronics that are refurbished at the Brockport facility include a nearby Sunnking storefront, a retail partners program, and wholesale and consignment outlets.
The company also enjoys a top-rated seller status on eBay.
The recycling, data destruction and IT asset disposition company accepts a wide variety of material from numerous residential, commercial and municipal sources.
"Our motto is we accept anything with a cord or a circuit board," Beckett said.
He also emphasized the company's flexibility.
"We aim to be nimble and adapt to changes in a rapidly evolving industry," he said. "We foster a spirit of innovation amongst our employees and embrace an open-door policy, encouraging new ideas on processes and health and safety."
This article originally appeared in the March 2017 issue of E-Scrap News. Subscribe today for access to all print content.