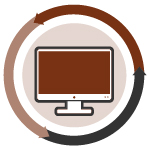 Growing volumes of Nigerian e-scrap coincide with an evolving processor field, and port workers will have an early vote on a labor contract that could bring some stability to West Coast exports.
Remote recycling: Between its small population and its location on an island, Wrangell, Alaska faces challenges in recycling electronics, to the point that some residents take old computers into the woods and shoot them. KTOO Public Media describes how the island's e-scrap recycling difficulties spurred a local electronics drop-off event, with Total Reclaim accepting Wrangell's e-scrap.
Pivotal vote: Workers at ports up and down the West Coast will vote on whether to extend their current labor contract, a move that could offer some stability in the shipping industry. The Business Examiner reports the International Longshore and Warehouse Union's contract with the Pacific Maritime Association won't expire until July 2019, but an early vote to extend the contract could ease market apprehension over disruptions due to labor unrest.
Evolving field: Nigeria is creating a growing amount of domestic e-scrap, and with it the processing industry is developing and becoming more sophisticated. Al Jazeera profiles an e-scrap company run by Ifeanyi Ochonogor, who described his company as one of the few internationally certified e-scrap processors in Africa's most-populous country.
Divergent devices: Worldwide shipments of new smartphones grew 4.3 percent in the first quarter of 2017, surpassing experts' prediction of 3.6 percent growth. International Data Corporation (IDC) reports a total of 347.4 million smartphones were shipped during that period, and IDC suggests the growth shows demand is still strong even as the market may appear to be slowing. Tablet shipments during the same period did not fare as well, posting an 8.5 percent decline compared with a year earlier and marking the 10th consecutive quarter of year-over-year shipment decreases.