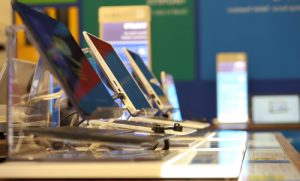 An in-depth study exploring the changing materials composition of e-scrap will be discussed in a U.S. EPA webinar next week.
The analysis explored the types and compositions of electronics sold and entering the end-of-life streams each year. The data, which cover products from 1990 to 2015, likely mirrors what some e-scrap recycling companies are seeing in their own facilities. The study helps quantify and document industry wide changes, and it gives a sense of which materials to anticipate in the future.
"One key finding was that while the number and type of products sold have increased, the net material consumption has declined to levels not seen since the early 1990s," according to a summary. "These findings are significant from a sustainable materials management perspective and the implications for future recycling needs and technology development."
The study was conducted by the Golisano Institute for Sustainability at Rochester Institute of Technology (RIT). It was commissioned by the Staples Sustainable Innovation Lab and the Consumer Technology Association (CTA).
As far as the weight composition of electronics entering the end-of-life stream, early results from the study showed a clear passing of the CRT wave and entering of the wave of LCD modules, including both those using cold cathode fluorescent lamps and those with LEDs. The data also showed clear decreases in the total amount of lead and mercury used in electronics.
In terms of the devices themselves, the study showed an huge growth in recent years in the number of smartphones, tablets, MP3 players, laptops and gaming consoles entering the stream, while also emphasizing how, by weight, they're still a small fraction of electronics.
The early results were presented at the Consumer Electronics Show in January and obtained by E-Scrap News.
Speakers on the April 27 webinar include Callie Babbitt, associate professor at the Golisano Institute for Sustainability at RIT; Mark Buckley, vice president of environmental affairs at Staples; and Walter Alcorn, vice president of environmental affairs and industry sustainability at the CTA.