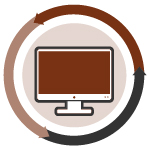 A warehouse full of CRT glass draws the attention of local officials, and a recycling expert explores the recycling problems presented by wearable devices.
Learning their lessons: Two Ohio inmates participating in a program that has prisoners disassemble old computers for recycling were found to have stolen components, pieced together two computers, hidden them in the ceiling and committed crimes with them. Cleveland.com reports the Marion Correctional Institution inmates connected the computers to an Ohio prison system network and created passes for inmates to access restricted areas of the prison.
Modular move: Smartphone manufacturer Lenovo is betting on modular technology as the way of the future for mobile devices. Nikkei Asian Review writes about Lenovo's Motorola Moto Z smartphone and its modular approach that allows users to modify their phone's functionality, which the media outlet describes as a radical departure from smartphone design trends.
Keeping track: Nearly 250 million pounds of electronics have been recycled in Wisconsin in the past seven years, according to a report from the state's Department of Natural Resources. The document says nearly all of the collected e-scrap has been processed in the state and its Midwest neighbors.
Up in smoke: A pile of electronics erupted into flames at a Pennsylvania e-scrap facility storing millions of pounds of CRT devices. According to the Tribune-Review newspaper, the cause of the April 12 fire at the Westmoreland Cleanways recycling center in Unity, Pa. is unknown, and the facility has stopped accepting electronics for the time being.
Planned closure: Recycletronics, an Iowa and Nebraska e-scrap processor, is aiming to close its doors in the next few months, according to KTIV News, the local NBC affiliate. Local and federal regulators conducted several inspections recently and denied renewal of the company's permit to accept CRTs.
Local reaction: The CRT glass being stored by Nulife Glass in a Pennsylvania warehouse has drawn the interest of local residents and city officials. The Herald newspaper writes about Grove City borough officials' reaction to the news that 1,900 tons of glass is being stored in a local warehouse, storage that the borough manager contends requires a conditional-use permit.
Wearable woes: As technology that can be worn as an accessory becomes more popular among consumers, recycling experts are concerned the new class of devices could pose problems for recycling efforts. A GreenBiz article by the CEO of Call2Recycle, a battery stewardship program, explores some common problems with recycling wearables and how they could be addressed.
Lithium laws: New rules regulating the labeling of lithium batteries while they're being transported have been adopted by the U.S. Department of Transportation, according to auditing and training firm Greeneye Partners. The rules covering markings on small and large lithium batteries, as well as their packaging labels, are now in effect, although compliance will not officially be required until January 2018.