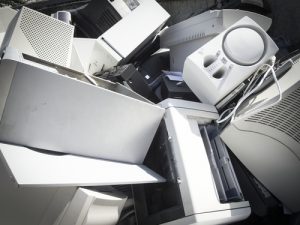 Colorado is one of just three states with an electronics landfill ban but no statewide e-scrap management program. An e-scrap executive in the state recently provided an update on how that system is working out.
In a recent webinar, Janice Oldemeyer, president of Onsite Recycling and its Colorado I.T. Refresh division, described the local effects of Colorado's landfill ban, which was enacted in July 2013. The webinar was presented by the Colorado Product Stewardship Council.
The landfill ban, which prohibits disposal of most household electronics devices, including CRT TVs and monitors, immediately increased the amount of electronics recycled in Colorado, Oldemeyer said. The cost to divert that material has been shouldered by local municipalities in some cases and consumers in others. The ban has also increased public awareness of the need to recycle, has increased electronics recycling options and has communicated the true cost of recycling to the customer, Oldemeyer said.
But, she added, without a legislated e-scrap collection program, the ban has led to an increase in illegal dumping of e-scrap materials, particularly along rural roads and at thrift store dropboxes. It has also led to wide variance between municipalities.
Oldemeyer pointed to several possible improvements to Colorado's system, which essentially all come down to cost. The state could create a funding mechanism to cover the costs of handling illegal e-scrap disposal, but it's unclear where funding would come from.
Statewide program, pros and cons
Of course, the state could also adopt a statewide e-scrap recycling program. Oldemeyer pointed out some pros and cons of the existing models.
California's advanced recovery fee (ARF) has the benefit of communicating to consumers the true cost of recycling through point-of-sale charges, but it can also be seen as a tax. Oldemeyer also said the approach is problematic because it puts no requirements on product manufacturers.
"I think that most people would agree that producers should take some responsibility for the end of life of the materials that they manufacture," Oldemeyer said.
Still, Oldemeyer advised against a traditional extended producer responsibility (EPR) program – a method used by numerous states – in which end-of-life responsibilities are handed to electronics manufacturers. Without an EPR program, she said, Colorado hasn't felt the effects of the "race to the bottom" of recycling companies competing to offer e-scrap services for the lowest price, Oldemeyer said.
The competition among recycling companies in EPR states, Oldemeyer said, can have negative consequences, such as environmentally unsound recycling. It has also contributed to CRT stockpiles, Oldemeyer contended, as companies get in over their heads with no way to get rid of the devices they've collected.
But another presenter, Jason Linnell of the National Center for Electronics Recycling (NCER), noted the stockpile issue is complicated.
"I don't think the state laws can be tied directly to the cases of CRT abandonment, since it's been seen both in states with and without these program laws … where the manufacturers are funding the programs," said Linnell, NCER's executive director. "I think that's more a combination of factors within the CRT recycling markets."
Nationwide perspective: a patchwork of programs
Twenty-five states and Washington D.C. have statewide e-scrap laws, with strong coverage on the coasts, in the Midwest and parts of the South. That pencils out to about two-thirds of the country's population covered by an electronics recycling program, said Linnell, who offered a wider look at e-scrap programs across the country.
Most, but not all, of those states with laws also have active e-scrap landfill bans, which are commonly tied to program laws, Linnell said.
E-scrap program laws have seemingly plateaued since 2010, Linnell said, when four states including New York passed e-scrap program laws. Since then, just Utah and Washington D.C. have ushered in legislated programs.
Although he praised the expansion of e-scrap laws for their part in increasing and improving electronics recycling, Linnell also pointed to some challenges with how e-scrap management is developing. The patchwork of e-scrap laws means programs vary widely, Linnell said, and that fact can cause headaches for stakeholders who are looking to operate on a national or regional scale.