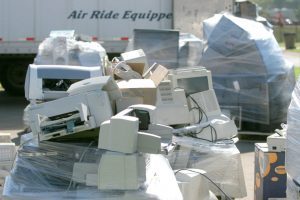 Even with the tough economic times of 2016, the electronics recycling membership of a key trade association remained fairly stable.
E-Scrap News analyzed the published membership lists for 2015-16 and 2016-17 for the Institute of Scrap Recycling Industries (ISRI), and focused only on the pure-play e-scrap members (firms that are solely involved in electronics recycling).
It's important to note, however, that many other ISRI member companies, especially some local non-ferrous scrap processors, also handle selected electronics.
Some 53 e-scrap firms in the U.S., operating 95 plants, are currently ISRI members. The number of firms is down 2 percent from the previous year while the number of plants declined 7 percent. New members in the past year were nearly the same in total as those not renewing.
ISRI e-scrap membership trends towards larger firms. However, the big news is that Sims Recycling Solutions and Electronics Recycling International (ERI) did not renew. These two firms are among the largest e-scrap firms in the world, and thus would have the largest dues.