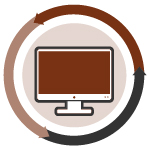 Apple's earbuds get a zero on the repairability scale, and scrap writer Adam Minter is planning another book.
Rosy outlook: IBISWorld has updated a research report examining the electronics recycling sector. It predicts the market to earn $7.5 billion in revenue in 2016.
Junkyard Planet part 2: Adam Minter, the author of "Junkyard Planet," plans to release a new book, according to Recycling International. The new book, titled "Second Hand," will focus on the repair and reuse of products, including electronics.
Apple fail: If you got a pair of the new Apple AirPods for Christmas, you better hope they don't break. Repair website iFixit did a teardown of the wireless ear buds and gave them a zero out of 10 on the repairability scale.
Drop-off dollars: In Madison, Wis. a municipal electronics recycling program has increased the fee it charges to accept televisions. Residents of the Wisconsin capital now must pay a $15 for TV recycling, up from $10.
Post-holiday dump: The landfill in Wake County, N.C. was busy after Christmas, according to WRAL.com. In particular, the county received a glut of electronics, which have to be taken to a recycling firm. Most electronic equipment is banned from landfills in North Carolina. Meanwhile, in another area of North Carolina, staffers at a county recycling center say the typical device that comes in "works just fine."