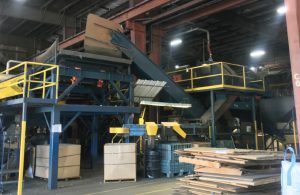 Many e-scrap recycling firms target gold and silver but send lower-value plastics elsewhere for disposal or recycling.
Not Canadian e-scrap recycling company FCM Recycling, which recently went into the e-plastics recycling business. The company processes mainly HIPS and ABS plastics it used to export to China for recycling.
"We capture, upgrade and re-process that material into a useable raw material, as opposed to shipping it to other downstreams in other nations," said Andrew Rubin, president of FCM Recycling. "Essentially, we are the only homegrown solution to WEEE scrap plastic."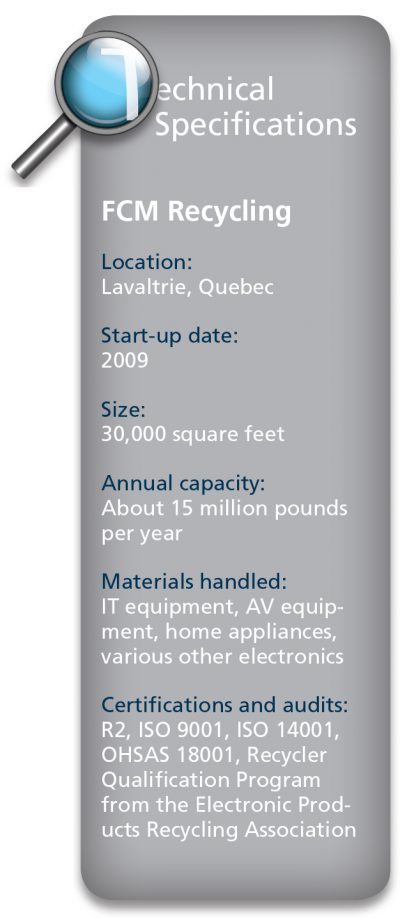 Headquartered in Lavaltrie, Quebec FCM Recycling has other locations across Canada. It also currently has one location in British Columbia, one in Ontario (co-located with the FCM Polymers plastics recycling facility), and one in Nova Scotia. The operations feed about 10 million pounds of plastics annually to FCM Polymers, which produces flakes and pellets.
The 30,000-square-foot Lavaltrie facility houses FCM's largest electronics shredding line, processing about 10,000 pounds per hour. The company feeds the line a variety of electronics, essentially anything that's shreddable – meaning the batteries, ink/toner and mercury have been removed.
The line relies on a series of shredders, size-reduction mills, magnets, eddy current separators and induction sorters to prepare and separate commodities. A variety of manufacturers made the equipment, and some of it was custom fabricated for FCM, Rubin said. The induction sorters are from Titech (Tomra Sorting Technology) and Steinert.
In handling CRT devices, FCM partially processes them by hand, removing some commodities and the glass, and the rest is shredded, Rubin said. The tubes are sent for processing at the company's location in Cornwall, Ontario, and the glass is sent downstream for further processing.
The company's focus on maximizing throughput and recovery with as simple a process as possible has helped it weather today's very low scrap prices, Rubin said.
FCM started in 1991 with ferrous and non-ferrous metals processing. It entered the electronics recycling business in 2007 and the e-plastics recycling business earlier this year.
FCM facilities have a combined 350,000 square feet of space. Last year the company processed about 40 million pounds across all its facilities, making it one of Canada's larger e-scrap recycling companies.
This story originally appeared in the September 2016 issue of E-Scrap News. Subscribe today for access to all print content.