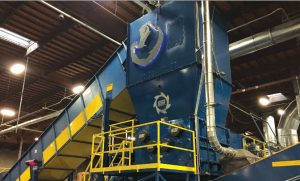 The Sims Recycling Solutions (SRS) site in Roseville, Calif. is one of the flagship facilities for the international e-scrap recycling company. At more than 200,000 square feet, the facility can process 72 million pounds per year.
The operation was one of the first e-scrap recycling facilities in the U.S. to have a large shredding and materials recovery process as well as a leading-edge IT asset disposition department, said Rafael Reveles, engineering and technical director for SRS in the Americas.
SRS utilizes a combination of manual and automated operations in the processing of electronics for reuse and recycling, said Reveles, a 16-year employee at the facility.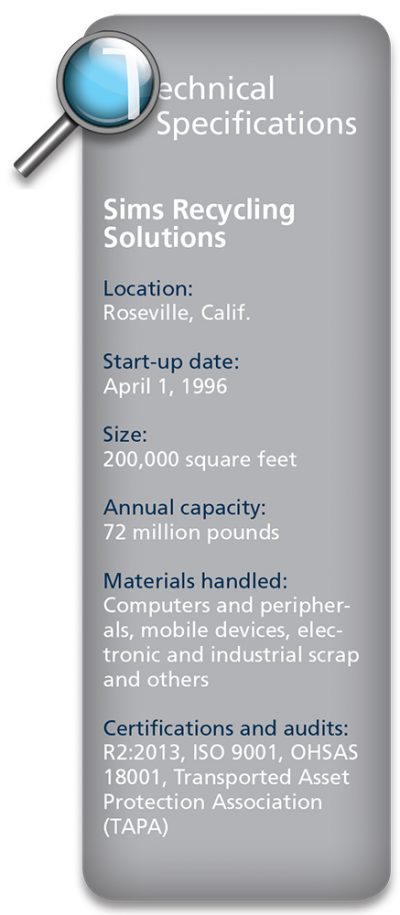 Upon arrival, electronics are weighed, verified, entered into a tracking system and tested. If an item passes inspection for reuse, data is erased through clearing, purging and/or physical data destruction. Units are then tested again for quality assurance before they're sold back into the market.
Items that can't be reused – or come from sources that insist on destruction – are prepared for recycling. Focus materials, including batteries, mercury-containing components, CRT glass, toner and others are removed before they're sent into a shredder.
After shredding, materials are separated using metals separation equipment and sensor sorter technology.
The facility uses equipment made by Donaldson, Kinergy, Master Magnets, Neatco Engineering Services, Sesotec, SSI Shredding Systems and Tomra. But the facility also has its own in-house engineering and fabrication shop, which produces conveyors, platforms and other parts for the plant. The company also offers its engineering, fabrication and machinery design services to outside clients.
SRS offers pick-up services for local businesses and provides secure 40-yard bins to hold e-scrap from larger collection projects. The facility takes in material from data centers, offices, the telecom industry, and medical and laboratory companies, among other sources. It also handles home-office and home-entertainment equipment.
While the 200,000-square-foot Roseville site is large, the operation itself has proven to be agile.
"Roseville is a testbed for trying new materials-separation equipment and techniques due to the in-house engineering and fabrication resources at the facility," Reveles said. "The Roseville facility is unique in its longevity and ability to adapt as the industry does so."
This article originally appeared in the June 2016 issue of E-Scrap News. Subscribe today for access to all print content.