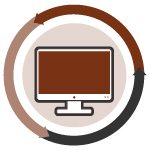 The end has officially come for the VCR, and the upcoming iPhone may not necessarily be an improvement when it comes to durability.
Repair concerns about iPhone 7: There is speculation that Apple will remove the headphone jack on the upcoming iPhone, combining the jack with the Lightning port. If that's true, the website iFixit predicts weaker durability and more port repairs or total phone replacements.
Convert your VHS tapes now: The last-known company still manufacturing VCRs will stop making them at the end of the month. According to arstechnica.com, Japanese company Funai Electric cites declining sales and lack of access to parts for the reason.
Campus safety: A professor at the University of Montana has raised environmental concerns over old electronics stored outside near a river. School officials tell the Missoulian they may consider tighter wrapping to better protect the electronics from rain and snow.
Pushing for executive order: The Basel Action Network has started an online petition asking President Obama to sign an executive order to stop the exportation of e-scrap to developing countries.