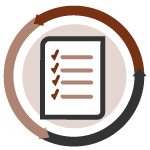 AAI SecureDocs of Minneapolis; Absolute Data Shredding of Norman, Okla.; Absolute Document Destruction & Storage of Baton Rouge, La.; Ace Data Storage, Inc. of Gulfport, Miss.; Computer Recycling Center of Springfield, Mo.; Eagle Secure Shredding & Doc Mgmt, LLC of Tucker, Ga.; Gone for Good of Birmingham, Ala.; Northeast Record Retention, LLC of Hooksett, N.H.; Secure Shred Solutions, LLC of Carroll, Iowa; and ShredQuick, Inc. of Bradenton, Fla. have either achieved or renewed their NAID certifications for physical destruction of hard drives.
Also, Li Tong Group of Hong Kong and PCs for People of St. Paul, Minn. have renewed their NAID certifications for computer hard drive sanitization as well as physical destruction of hard drives.
E-Scrap News has added OHSAS 18001 and NAID AAA into its certification directory, as well as moved the directory online. If your firm recently completed these certifications, a CHWMEG audit or an ISO 9001, ISO 14001, R2, RIOS or e-Stewards certification, e-mail [email protected] to be included in this section and in E-Scrap News' directory. The full directory is available here.