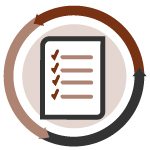 Revolution ITAD of Toronto is now certified to the ISO 14001, OHSAS 18001 and R2:2013 standards.
T3 of Rancho Cordova, Calif. gained certification to ISO 14001, OHSAS 18001 and R2:2013.
Shred Ace of Durham, N.C. has renewed its NAID certification for physical destruction of hard drives.
E-Scrap News has added OHSAS 18001 and NAID AAA into its certification directory, as well as moved the directory online. If your firm recently completed these certifications, a CHWMEG audit or an ISO 9001, ISO 14001, R2, RIOS or e-Stewards certification, e-mail [email protected] to be included in this section and in E-Scrap News' directory. The full directory is available here.