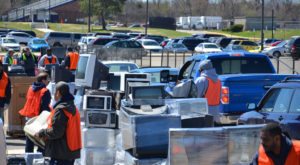 A bill that would reshape New Jersey's e-scrap program was passed late last week by members of the state's General Assembly.
The vote of 46-18 sets up a January vote in the Senate on a corresponding version of the legislation. As E-Scrap News reported earlier this month, the bill would maintain collection quotas for manufacturers and require them to pay for whatever material is collected in a given year. The bill's supporters argue manufacturer quotas are currently set too low, leaving communities responsible for the costs of recycling covered electronics.
The New Jersey Association of Recyclers, which has supported the changes, wrote in an email to its members that New Jersey's Senate will vote on the legislation on Jan. 11.
The likelihood of the legislation passing the Senate is unclear at this time. If passed, it would need the signature of Republican Gov. Chris Christie.