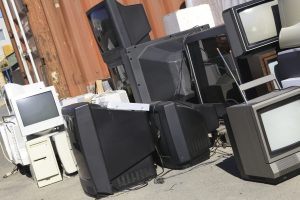 Minnesota-based Materials Processing LLC has been fined $125,000 for storing 2,500 tons of CRT glass in more than 100 semi-trailers around the Twin Cities. The company also recently closed its dual-certified Philadelphia facility, E-Scrap News has learned.
According to a press release from the Minnesota Pollution Control Agency, "crushed" leaded glass belonging to Materials Processing LLC (MPC) was found in 128 semi-trailers in the St. Paul-Minneapolis metro area. As part of an enforcement action brought against MPC by state regulators, the company has paid for the material, totaling 2,500 tons, to be moved to "a permitted hazardous waste facility."
No improper storage of CRT glass was cited at the company's Mendota Heights, Minnesota headquarters. The Minnesota Pollution Control Agency provided E-Scrap News with a copy of the stipulation agreement between the agency and MPC, and that document indicates the trailers were located at four other sites, one in Minneapolis and three in local suburbs Roseville and Forest Lake.
The stipulation agreement also shows Minnesota regulators were alerted to the situation through a complaint in August 2013. Regulators initiated dialogue with MPC soon after, and the company provided a list of trailers containing CRT glass. In late 2013 and early 2014, Pollution Control Agency officials inspected the sites. MPC told the agency the glass in question was moved to a Peoria, Illinois landfill before June 1, 2014, according to the stipulation agreement.
The company was fined $125,000 for mismanagement of hazardous waste and failure to permit the four locations containing trailers.
MPC did not return several requests for comment.
The company was formerly known as Materials Processing Corporation but changed its name to Materials Processing LLC on Jan. 28, 2014, the stipulation agreement states. The company is listed as a registered recycling entity under Minnesota's manufacturer-backed electronics recycling program.
Founded in 1983, MPC is e-Stewards-certified at its Minnesota headquarters and also held an R2 certification there until September 2014. At that point, the company did not renew its annual licensing agreement, said John Lingelbach, the executive director of R2 administration organization SERI.
The company's Philadelphia location, which apparently shuttered in the last six months after the processor was sued for back-rent by its landlord there, was certified to both e-Stewards and R2:2013 at the time of its closing.
The Philadelphia location had been open since 2011 and spanned more than 110,000 square feet. At its peak, the facility employed 100 workers and processed 4.5 million pounds of material per month, according to an official company response to the lawsuit from the Philadelphia landlord.
Jim Puckett, executive director at e-Stewards creator Basel Action Network, said the Minnesota glass management issue at MPC came as a surprise to him. "We are in discussions about whether their actions and the situation triggers our Critical Non-Conformity Policy and if so, were there extenuating circumstances," Puckett wrote in an email to E-Scrap News.
The non-conformity policy was last brought into play by Georgia's Diversified Recycling and resulted in the processor being hit with a two-year suspension from applying to the e-Stewards standard.
MPC was also one of four registered recycling partners of the Minneapolis-based Electronic Manufacturers Recycling Management Group (MRM), which administers state-mandated recycling services on behalf of equipment manufacturers Mitsubishi, Panasonic, Sanyo, Sharp and Toshiba.
In a statement, MRM's president, David Thompson, said the group "ended its relationship with MPC from the middle of last year."
"MRM continually reviews its business relationships with a view to increasing relationships with recyclers who offer the greatest technological potential for maximizing use of materials from electronic products collected for recycling while also maintaining strict environmental performance standards, providing excellent customer service and cost competitiveness," Thompson stated. "Last year MRM made a business decision, based on a number of factors, not to work with MPC any longer."
MPC is being sued by its landlord in Philadelphia, Drummond Decatur and State Properties, for back-rent in excess of $100,000, rent for the remainder of the lease, which ends in Nov. 2018, and costs associated with repairing, altering and/or preparing the site to be leased to another party. Drummond Decatur did not return a request for comment.
In court documents reviewed by E-Scrap News, MPC claims multiple repairs left untended at the facility gave it no choice to shutter the operation.
The phone number associated with the plant is no longer in service.