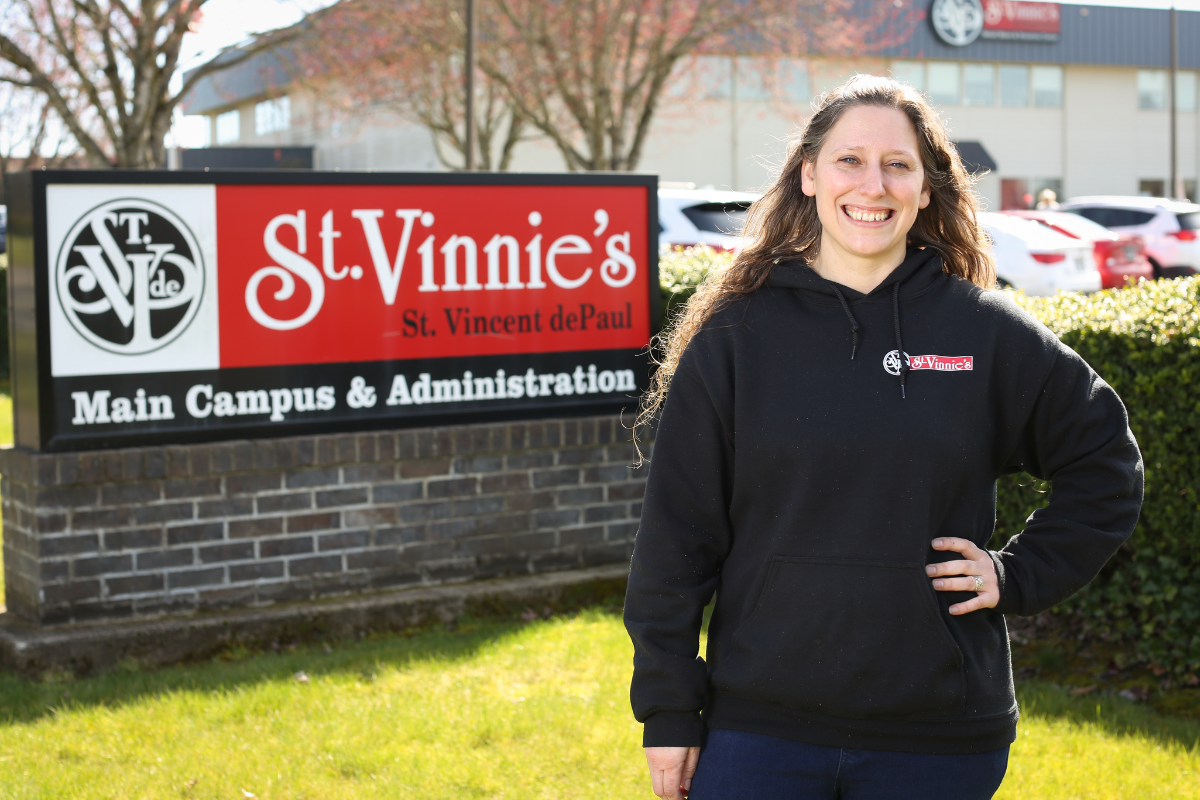 A warm welcome back to "Women in Circularity," where we shine a light on women moving us toward a circular economy. This month, I connected with an economic development professional who specializes in reuse and recycling endeavors: Bethany Cartledge. Bethany is the deputy director of St. Vincent de Paul of Lane County, a nonprofit that assists the vulnerable through meaningful employment, homeless and emergency services, affordable housing and other strategic initiatives. She has more than 20 years of experience in capacity-building economic development. 
How did you get started in your present career, and where has it taken you?
My work with St. Vincent de Paul (SVdP) began two decades ago, working with the children of families experiencing homelessness. Since then, I have had the opportunity to build a department for used books; steward our mentoring arm of the organization, Cascade Alliance, by working alongside other nonprofits in resource-based businesses; oversee the development team; refine our mattress recycling operation; and now oversee the day-to-day operations of the organization. I have yet to be bored, as our organization is constantly adapting. It's an incredibly innovative space to be in. 
What impacts does your sustainability work have locally and farther afield?
I'm excited to say we have global reach. We have pulled materials from landfills in the United Kingdom, coached mattress recyclers in Australia and provided appliances to Belize. Locally, we have diverted tons of resources from the local landfill. Likewise, we continue to operate the Cascade Alliance, working to support a national network of nonprofits. In seven years, the Cascade Alliance has helped its members launch 19 businesses, create 235 jobs and earn more than $20 million in revenue – all while diverting more than 20 million pounds of materials and over 9 million mattresses from the waste stream. Social and environmental benefits are embodied in the growth trajectories of our members. 
Can you tell me about a recent project that you enjoyed working on?
So hard to choose! I have had a few projects that I have really found joy in over the last few months, but I have particularly enjoyed developing framework for organizational health and growth. My favorite "P's" are practices and procedures. Having the opportunity to dive into some of our departments to assess what to improve and what is working well. I thoroughly enjoy problem solving.
What do you think is prompting companies to shift their focus to circular economy initiatives?
I have been happy to see the shift in conversation at a national level surrounding the circular economy and extended producer responsibility. I believe this is, in part, due to consumer trends. A growing number of shoppers are indicating they care about sustainable product design. I also believe we need to evaluate where materials are going and place responsibility on manufacturer's to consider the end of life of their products. 
Is there an eco-artist who has had an impact on your work? 
We have an artist-rich community full of gifted makers. The one I most admire is Mitra Gruwell, founder of Discard Upcycling. She shares one of SVdP's core values: sharing our expertise. She teaches other individuals how to upcycle clothing, look at materials differently and sew, and she comes alongside young members of the community to inspire them to upcycle. 
MaryEllen Etienne is the creator of "Women in Circularity." Etienne works on the Market Transformation and Development team for the U.S. Green Building Council. She has over 20 years of experience in sustainability and is a champion of the circular economy.
More stories in the Women in Circularity series