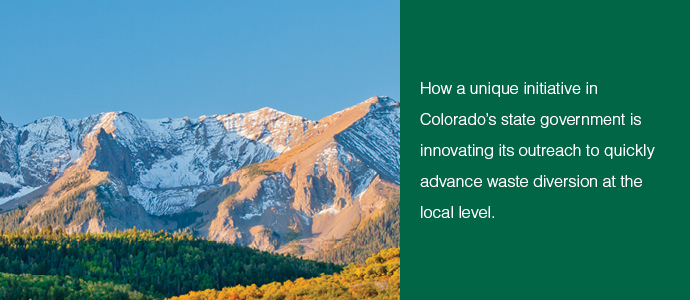 This article appeared in the August 2023 issue of Resource Recycling. Subscribe today for access to all print content.
Grant opportunities help local governments and organizations support programs, projects and other initiatives that aim to benefit the community. Colorado's Front Range Waste Diversion enterprise board launched the Technical Assistance Service Provider (TASP) program to create an innovative pathway for Colorado communities to quickly access "no-cost" technical consulting and help the state meet its waste diversion goals. Technical consulting helps local governments adopt policies to increase diversion, conduct studies to identify high-impact strategies or build pathways for a formal grant application to build infrastructure capacity, collection programs or end markets.
The Front Range Waste Diversion board
Colorado's Front Range Waste Diversion (FRWD – pronounced "forward") was formed in 2019 as the result of state legislation. FRWD helps Front Range communities reduce and divert municipal solid waste, organics, construction and demolition waste, and other materials by providing technical assistance and funding waste diversion and aversion projects that help communities extend the useful life of current local landfills.
These projects provide numerous other benefits as well, including creating local jobs, supporting regional businesses, diversifying current and new end markets, increasing value for households by reducing wasted food and encouraging material reuse, improving air quality by reducing greenhouse gas emissions, and promoting the wise use of natural resources.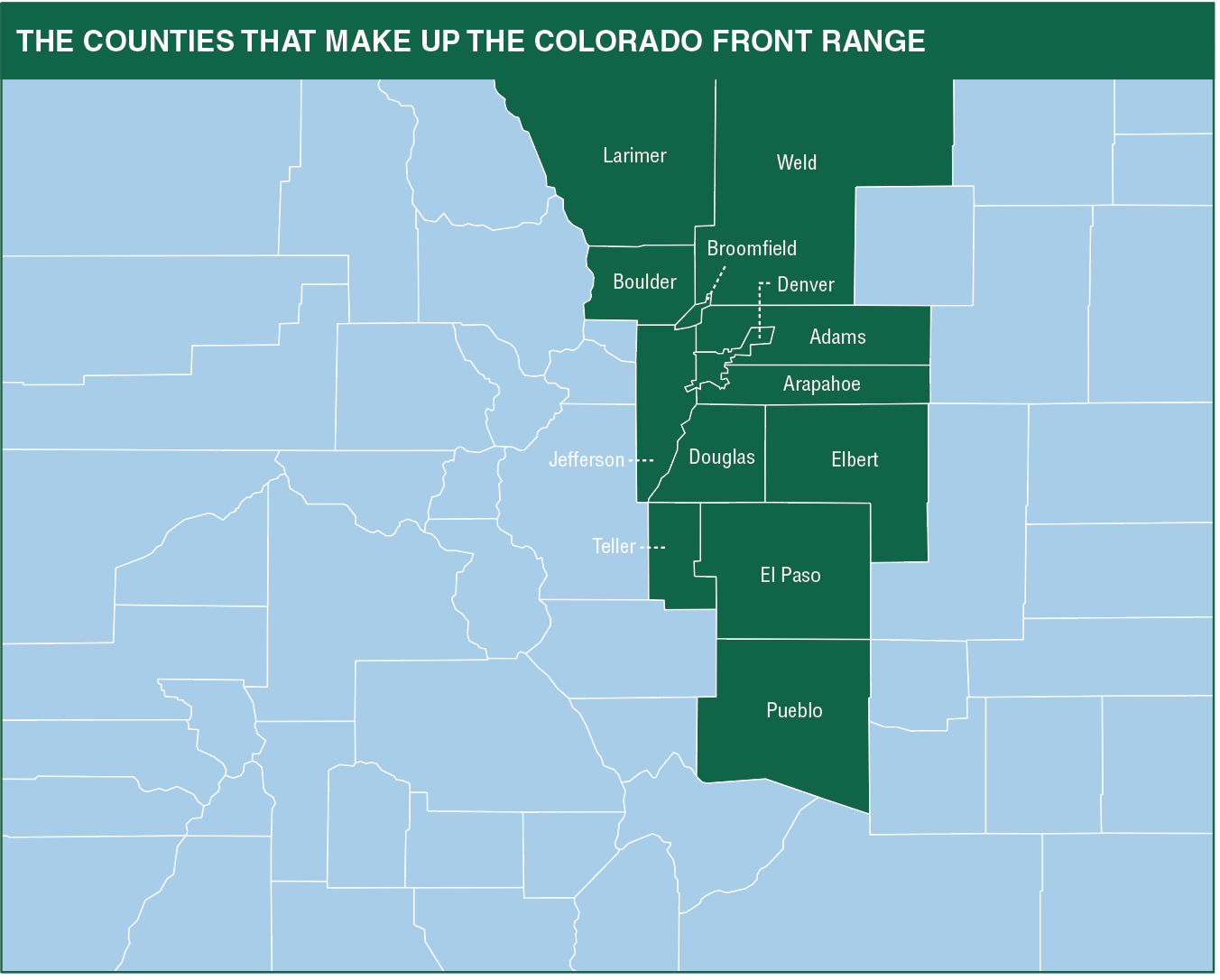 The enterprise is a government-owned business within Colorado's Department of Public Health and Environment (CDPHE). To date, the board has distributed over $14 million to 38 local governments, businesses, nonprofits and schools. Grants have ranged from relatively small investments, such as $100,000 to expand zero-waste grocery delivery services, to much larger ones, such as nearly $2.4 million for a large city to purchase composting collection carts for single-family households. FRWD has also funded several waste composition, planning and policy studies to help communities adopt policies or identify strategies to improve their local programs.
What is TASP?
The mission of TASP is to directly assist local governments across the Front Range on diversion and waste reduction by implementing sustainable, long-term solutions that meet the unique needs of each community. TASP is the primary mechanism for communities in the region to access FRWD-funded technical consulting support for waste diversion. There is no cost to communities to receive TASP consulting support; all funding is provided by the FRWD enterprise fund.
How does it work?
TASP provides eligible communities with three tiers of no-cost technical support. Under Tier 1, communities can quickly tap into TASP resources and light-touch technical consulting without completing a grant application. Examples of Tier 1 support include reviewing hauler contracts, sharing short white papers on policy options, presenting waste diversion information to elected officials or providing advice on setting up collection events.
Communities interested in more intensive technical consulting, such as completing waste composition studies, developing and passing universal recycling ordinances, or adopting zero-waste plans, are encouraged to apply for Tier 2 or Tier 3 consulting. TASP cannot provide funding for equipment, infrastructure or staff. However, the program can help local communities know what they need before they seek grant funding.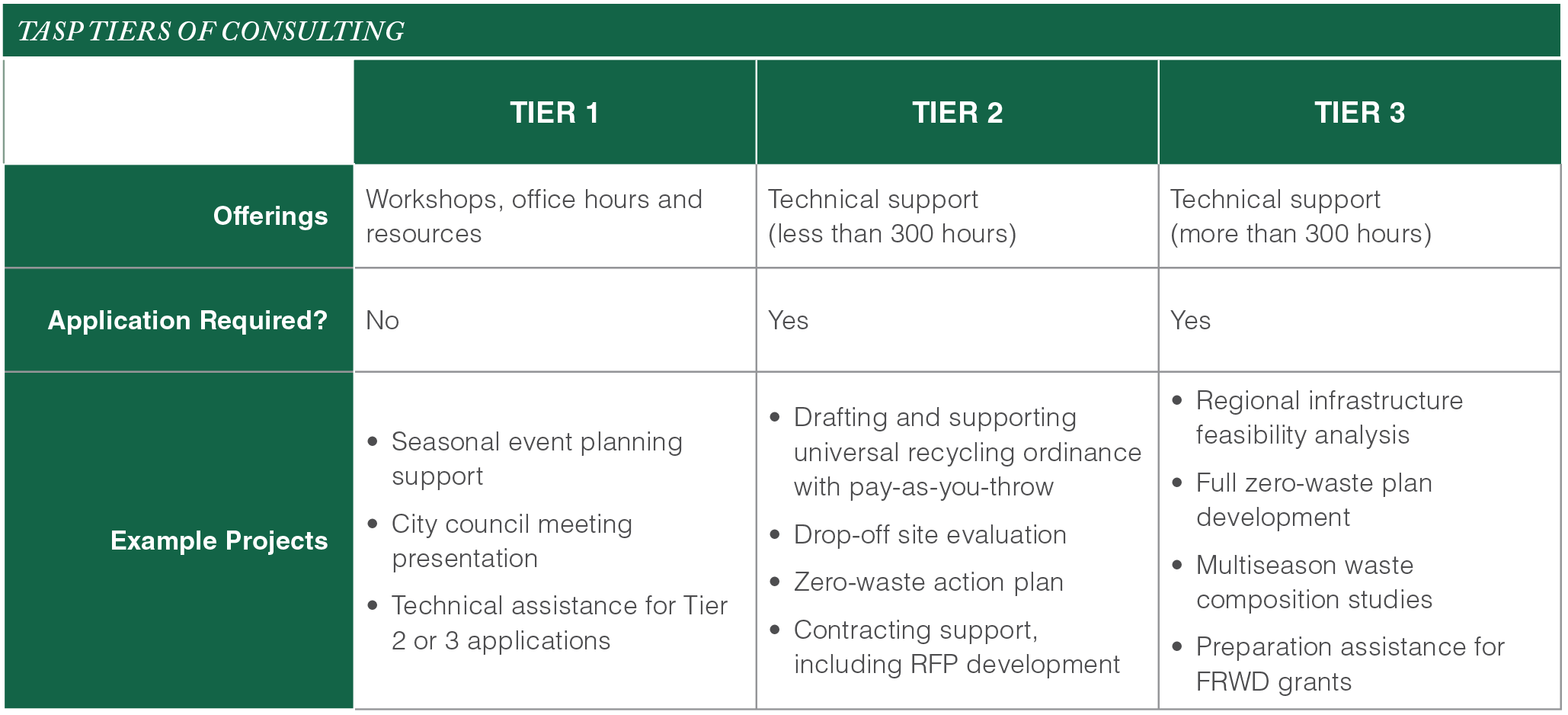 Innovations at TASP
The FRWD board is rewriting the manual on how to leverage state grant funding to increase diversion. As such, the TASP program offers a number of innovations.
First, TASP streamlines the process. Typical grants require the community to complete a grant application, enter into a contract and then execute the work either on their own or with a third-party contractor. TASP is an exception to this rule. TASP uses a short (about three pages or fewer) application, a pool of already-contracted third-party technical experts and a semi-formal memorandum of understanding (MOU) between the TASP contractor and the community. This reduces barriers to entry, allowing FRWD to rapidly provide communities with the technical support needed to increase diversion.
Second, TASP does not require a budget. Unlike other grants, applicants vying for TASP technical support are not required to request a funding amount. Applicants are responsible for collaboratively developing a work plan, but the funding is managed by FRWD and CDPHE, making it easier for cities to apply and complete work.
Next, TASP provides instant access. TASP's Tier 1 support does not require an application. The TASP team is readily available to meet with communities to help develop projects; review policies or contracts; present at community events to build local support for waste diversion projects among elected officials, government staff, green teams or advisory boards; or provide an array of other light-touch consulting services to communities. While TASP contractors cannot help communities write their applications, the TASP team is available to meet with interested communities to generate ideas, provide application guidance and discuss potential project work plans.
And finally, TASP helps with public dissemination. Under TASP, all work completed is shared through the project resource library and disseminated across the state of Colorado through workshops and other engagements.
All this leads to larger projects. TASP represents only a small portion of the work funded by the FRWD enterprise fund.
Towns, cities, counties and other communities are encouraged to use "no-cost" TASP consulting as a pathway to developing larger projects. For example, TASP is available to support regional wasteshed planning and feasibility studies for infrastructure. Pending the outcome of a TASP project, a community could then apply for FRWD grants to fund the infrastructure development needed to move the needle in the region.
A Work in Progress
Although TASP is less than six months old, it is already showing that meeting communities where they are is not only an essential practice to capture and effectively use grant dollars but also helping communities manage waste diversion practice changes local government leaders and their constituents want to see.
Juri Freeman is a Managing Principal at RRS and the TASP project manager. He can be reached at [email protected].
Deborah Nelson works for the Colorado Department of Public Health and Environment and is the FRWD Board Administrator. She can be reached at [email protected]. To learn more about FRWD grants and the TASP program, visit www.coloradofrwd.org.
TASP technical support is provided by RRS (www.recycle.com) and Eco-Cycle (www.ecocycle.com).
This article appeared in the August 2023 issue of Resource Recycling. Subscribe today for access to all print content.