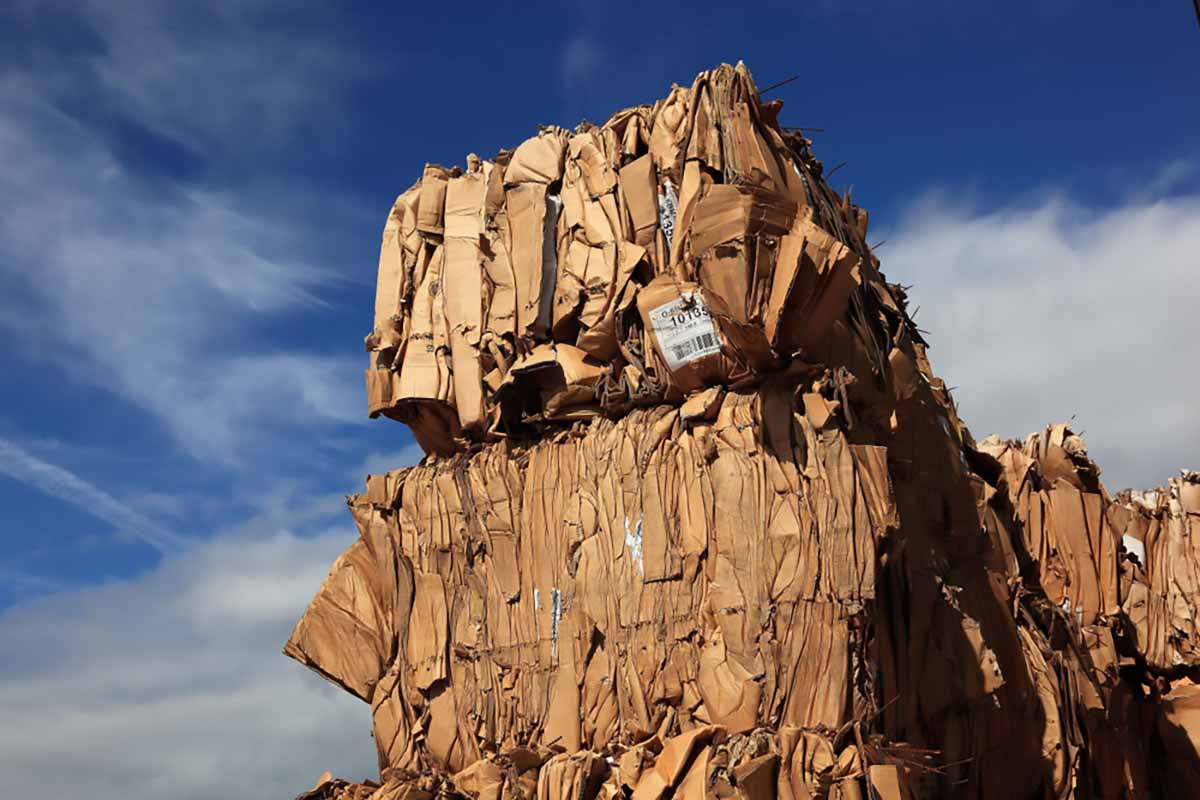 Kruger packaging aims to produce 200,000 tons of recycled material each year at its facility in Place Turcot, Québec. | BAO Images Bildagentur/Shutterstock
Kruger Packaging will manufacture 100% recycled saturating kraft board after it modernizes a Montreal mill.
The Canadian company will spend over $30 million Canadian dollars (about $22.3 million U.S. dollars; all figures below in USD) to install new technology and reduce emissions at the Place Turcot Containerboard Mill. 
The Canadian government is contributing $7.4 million via the Investments in Forest Industry Transformation program and the Québec government is providing about $2.3 million through its Innovation Bois Program and ÉcoPerformance program. 
Maxime Cossette, corporate vice president of fiber, biomaterials and sustainability at Kruger, said in a press release that the aim of the project is to "secure the future of our Place Turcot Mill and to consolidate its position as a key player in the circular economy." 
"This project will give us more flexibility to meet the ever-changing needs of the market and enable us to keep making better products with a smaller environmental footprint," Cossette added.  
Cossette told Resource Recycling that changing the linerboard machine over and using AI and machine learning for the chemical processing sections and the quality control aspect will greatly improve efficiency and increase the amount of OCC the mill can process.
"The machine right now is delivering roughly 180,000 tons a year and we know that we will be able to get to 200,000 tons by having more effective controls and less breakdowns," he said. 
Kruger uses AI in other ways at various locations, he said, but this project will be the first to use it in finishing. Virtual reality has been a big part of training the incoming, younger work force, he added. 
"We have used a lot of virtual reality as a training tool for different mill operators so now it's really embedded into the culture of the mill," Cossette said, adding that "we envision being a 4.0 type of paper mill." 
In the past four years, Kruger has reduced its greenhouse gas emissions by 18% and this project will reduce emissions by another 4% or 5%, he added, so "with the same output, same ability and diversified portfolio of products our overall GHG footprint will still be 25% lower at least in the last five years." 
The project is set to be completed by 2025, making the mill the first in North America to manufacture 100% recycled saturating kraft board. The board is used to make high-pressure laminates for furniture, countertops and decorative paneling.
Place Turcot will also be able to manufacture other specialty products from 100% recycled fibers, including gypsum board paper, customized board for residential construction, folding box board for FDA-compliant food packaging and white top linerboard. 
Cossette said softening OCC prices have not worried Kruger in terms of pricing, but "often with the price decrease comes a quality problem because people are trying to run through their processing centers as much as possible to cover the fixed cost." 
In response, the company has stepped up quality control but has not seen contamination problems, he said. 
"We make sure that we're vigilant and that we're keeping our quality control as high as possible," Cossette said. 
Place Turcot is the only consumer of OCC in the greater Montreal area and consumes the equivalent of all OCC generated in the region, the press release noted. Cossette said the company's recycling team has spent the last several years increasing how much OCC it collects, and with the more efficient machine at Place Turcot, it plans to continue to increase collection from small and medium areas. 
More stories about markets