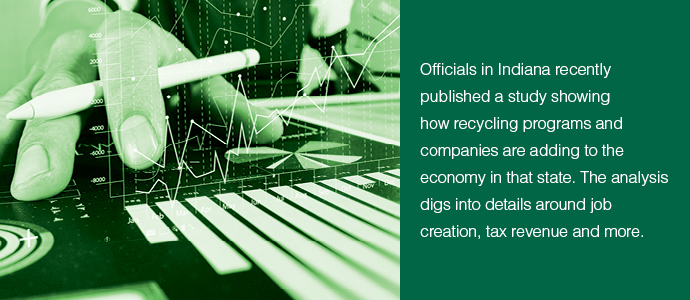 This article appeared in the October 2021 issue of Resource Recycling. Subscribe today for access to all print content.
For a jurisdiction of any size, it's critical to quantify the economic impact made by materials recovery. Having reliable data on hand is a powerful way to make decisions about program improvement and to help persuade various stakeholders to take action.
Earlier this year, results were released from one large-scale project along these lines: the Indiana Department of Environmental Management (IDEM) Indiana Recycling Infrastructure and Economic Impact Study.
GT Environmental, a consulting firm, was contracted by the Recycling Market Development Board to provide a comprehensive review and analysis of the broad infrastructure and significant economic impact of recycling throughout the Hoosier state. In addition to outlining that data, the report includes specific recommendations to improve statewide recycling to maximize its impact in the circular economy.
Mission to become a waste and recycling leader
The state's Recycling Market Development Board operates under the Recycling Market Development Program, which was established in the early 1990s to improve the management of solid waste by developing markets for recycling and recyclable materials. The market development effort is administered by the IDEM. The mission of the program is to promote innovative projects to make Indiana a leader in recycling and waste reduction.
The board commissioned the economic impact study to help determine the best use of grant dollars to meet the needs of Indiana's recycling infrastructure and markets and to engage stakeholders to help promote economic development, program development, and inform legislation necessary for a more sustainable solid waste system.
The study was conducted from June 2020 through May 2021, meaning the work was done during the COVID-19 pandemic. While Indiana's solid waste system was significantly impacted by COVID-19 in 2020, the study used 2019 data, which was mostly unaffected by the pandemic. The study used the recycling tonnages from IDEM's 2019 Recycling Activity Report with additional data from surveys of solid waste management districts, communities, recycling companies and manufacturers, as well as other data sources.
Recycling programs nationwide have in recent years experienced significant economic challenges because of low commodity prices and cheap disposal. This is especially true for states in the Midwest, where landfill rates are among the lowest in the country.
Despite current challenges facing the recycling industry, Indiana is working towards reaching a 50% recycling goal for municipal waste. To track progress, the state requires mandatory reporting of solid waste and recycling data on an annual basis. The recycling rate serves as a general metric for the circular economy to supply recyclables for manufacturers and other end users.
The study provides perspective for the current solid waste and recycling infrastructure in Indiana and helps stakeholders and decision-makers to better understand how to make local improvements and support new investments.
A look at state's infrastructure
Indiana's waste and recycling infrastructure for municipal solid waste (MSW) collected approximately 8.8 million tons in 2019, with 76% being disposed of in landfills, 5% diverted to waste-to-energy and 19% diverted through recycling. This recycling rate falls below the national rate of 32% calculated by U.S. EPA and the state's goal of 50%.
Roughly, the recyclables originate from the following:
Source-separated (dual stream) recyclables mainly from commercial, institutional, and industrial sectors (45%).
Wood waste/organics from communities and industrial scrap as used for mulch/animal bedding/compost (35%).
Single-stream recyclables from residential sectors (20%).
A number of operators in Indiana process materials into valuable commodities, making the old material reusable and protecting natural resources for future generations. Based on 2019 data reported to IDEM, 397,831 tons of recycled commodities (glass, metals, paper and plastic) were provided to manufacturers in Indiana. Meanwhile, 405,397 tons of recycled commodities were exported to out-of-state manufacturers. The total commodity value of the reported recyclables generated and used in-state is more than $30 million annually.
The study also shows that the state has a broad solid waste infrastructure that is supported by 34 landfills, 78 transfer stations, 116 compost facilities and 14 materials recovery facilities (MRFs). Seven of the 14 Indiana MRFs sort most of Indiana's single-stream recyclables, and the other seven MRFs focus on source-separated recyclables or serve small communities. Other types of facilities that provide recycling services in the state include transfer stations and community recycling hubs.
Survey results showed that statewide collection efforts for recyclables include 197 curbside recycling programs and 313 drop-off recycling locations for the residential sector. This infrastructure provides 89 of our 92 counties with access to either curbside or drop-off recycling services.
Tallying the economic impact
The economic analysis included in the study looks at recycling jobs, supplier jobs and jobs in other industries supported by recycling industry spending. It focuses on both sides of the circular economy and its impacts – that is, the supply side provided by the collection and processing of recyclables performed by the recycling industry and the demand side represented by manufacturers using recycled commodities.
The study assessed direct, indirect and induced economic contributions of the recycling industry and manufacturers. Indirect jobs are the inter-industry impacts attributed to company spending on goods and services and induced impacts include the impacts of household spending by the employees generated by the direct and indirect impacts.
The analysis determined Indiana recycling collectors, brokers and processors accounted for 4,255 direct jobs and a total of 8,533 direct, indirect and induced jobs in 2019. Those jobs' effects add $1.7 billion to Indiana's economy through wages, benefits and spending.
The total tax contribution to Indiana and its cities, towns and counties by companies processing recycled materials is estimated to be over $131 million annually. Based on survey responses from Indiana manufacturers that stated they could use more recyclables from in-state origins, another 922 jobs in the recycling industry could be created to help supply the existing demand.
Companies that use recycled commodities provided by the recycling industry to manufacture products produced with recycled content are primarily engaged in a wide range of manufacturing efforts. Potential manufacturers identified in the study account for 357,043 direct, indirect and induced jobs for a total economic estimated impact of $117 billion.
The total tax contribution of companies using recycled material as part of the manufacturing process exceeds $2.2 billion, benefitting cities, towns, counties and the state of Indiana. The state receives the largest impact of nearly $1.7 billion.
"Indiana's strong manufacturing base provides Indiana with the strong infrastructure needed to provide high quality jobs for Hoosiers and plays a unique role in boosting the state's economy while improving the state's environmental quality," said Bruce Burrow, chairman of the state's Recycling Market Development Board.
To the next level
The study concludes with 24 recommendations in 11 key areas, which include data collection, materials management planning, collection and processing programs, economic development and public-private partnerships.
A comprehensive statewide and stakeholder-wide approach to all elements of the solid waste system is needed to take recycling to the next level in Indiana. The 24 recommendations are meant to stimulate discussions with stakeholders to develop solid waste data systems, changes in policy, materials management planning, funding and structural updates that will provide the foundation for the circular economy.
A long-term roadmap and commitment are required to increase landfill diversion, maximize recycling, and build a sustainable circular economy. This roadmap may include all or some of the recommendations as presented but will require many more initiatives and residential, commercial, industrial and institutional support.
The study represents a big step toward understanding the strengths of the recycling infrastructure, including collection, processing, final disposal locations, and manufacturers and recycling's valuable impact to Indiana's economy. The results show that Indiana's recycling system has a robust infrastructure and has a strong economic impact.
Additionally, Indiana's recycling industry and manufacturing provide the framework for a powerful economic engine in our state, generating jobs and tax revenue while making the old new again, and protecting natural resources for future generations.
Deanna Garner is the recycling market development program manager for IDEM. She can be contacted at [email protected].
This article appeared in the October 2021 issue of Resource Recycling. Subscribe today for access to all print content.