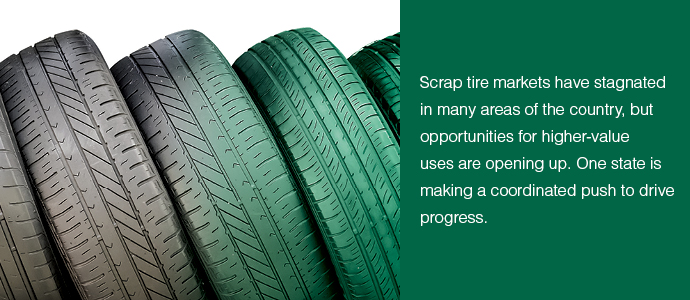 This article appeared in the July 2021 issue of Resource Recycling. Subscribe today for access to all print content.
Nearly three decades ago, 1 billion tires littered communities across the U.S., triggering fires, marring the landscape and fostering breeding grounds for mosquitoes. Out of necessity, the U.S. EPA and a growing number of states joined forces to ultimately create what is now a $1 billion scrap tire reuse industry.
But the time has come for a new call-to-action. The scrap tire recycling rate has stagnated and needs to pivot its premise from waste minimization to value creation. By transforming scrap tire markets to emphasize higher-revenue and regenerative uses, the industry can increase its valuation by multiples.
Individual states have a vital role in this process, which includes creating a constructive regulatory environment and nurturing high-value and scaled next-use markets that often transcend state boundaries. The state of Michigan is playing its part. With its focus on innovation, collaboration and economic value creation, Michigan aspires to lead the way in spurring a stronger circular tire economy.
Understanding current markets
According to the Michigan Department of Environment, Great Lakes, and Energy (EGLE) Scrap Tire Market Development Study, which was published last year, approximately 300 million tires are collected in the U.S. annually. Roughly 80% of that material is processed for secondary uses spanning three primary markets: tire-derived fuel (TDF), tire-derived aggregate (TDA) and ground tire rubber (GTR).
The remaining 20% heads to export markets or landfill.
TDF was the first market to be developed in the scrap tire industry, and it still consumes about 40% of collected scrap tires nationally, according to the EGLE tire study. TDF is produced by shredding the tires into pieces 1 to 3 inches in size; the shreds are then used to power electric utility boilers, cement kilns, and paper mills.
Despite its fuel efficiency and conformance with current EPA emissions regulations, TDF demand is under pressure, with greenhouse gas standards expected to become more stringent and increasingly favorable costs for other fuels, such as natural gas.
TDA, used in civil engineering applications, makes up less than 10% of the market, although experts suggest that its cost and performance characteristics should enable more than double that portion nationally.
Tire shreds used for TDA are larger than those used in TDF, ranging from 3 to 6 inches depending on the specific use, which include drainage material and permeable fill for infrastructure. TDA has distinct advantages versus traditional materials. Compared with soil, for instance, it is one-third the weight and 10 times more effective for drainage. It insulates eight times more than stone and costs less than sand and gravel.
Finally, GTR, also referred to as crumb rubber, makes up about 30% of the scrap tire market. GTR is a broader category that includes three subgroups: rubber-modified asphalt (RMA), mulch/athletic fields/pathways, and molded and extruded products. The shreds used in these markets are considerably smaller, ranging from one-half of an inch down to less than one-hundredth of an inch. In producing shreds for these markets, processors must ensure much more uniform granules.
A segment with opportunity
While RMA is the smaller portion of the GTR category (20%), experts feel that its upside for growth is much greater than that for the other two subgroups, each of which stands at about 40% of GTR usage today.
RMA, sometimes referred to as asphalt rubber or rubberized asphalt, is most prominent in California and Arizona, followed by Georgia. A number of obstacles have hindered its national growth: investment in unique equipment; learning curve for pavers and contractors; cost penalties versus traditional asphalt; need for favorable specifications, which are either overly restrictive at the national level or disparate among individual states; and disappointing results with prior efforts, which generally were due to the lack of adherence to the stringent RMA formulas and processing nuances. The early adoption by certain states was often driven by mandates for scrap tire usage.
Looking ahead, however, it appears obstacles are waning, and mandates may not be as necessary.
Newer processing methods, where the mixing occurs on-site, are enabling easier and lower-cost application. Performance benefits are being proven – reduced rutting and cracking and lower lifetime costs of ownership are attracting new customers. Popularity among users in colder weather regions, such as Illinois and New England, is helping establish a more national footprint for RMA.
As adoption continues to expand, the supply of scrap tires should not be a constraint. As explained by Amy Brackin, vice president of market development at Liberty Tire Recycling, which runs processing sites across the U.S.: "The 300 million tires scrapped annually could provide 360 million tons of RMA, which would be over ten times the current usage, and supply 75% of all the asphalt laid in the U.S. each year."
Michigan's path forward
The state of Michigan recovers approximately 10 million scrap tires annually. The scrap tire program operated by EGLE secures funding through vehicle title transfer fees and deploys the monies toward cleanups, enforcement, and market development.
EGLE's scrap tire study showed that compared with national proportions, the Michigan scrap tire market is heavily skewed toward TDF (nearly 70% versus 40% nationally), under-represented in GTR (below 10% vs. 30% nationally), and at par for TDA (less than 10%).
Recognizing the need to shift scrap tire usage away from TDF, EGLE took a deep dive into its methods and tactics to map out a strategy for market diversification and transformation. Resource Recycling Systems (RRS) was contracted to compare Michigan's approach and results with those of other states. The study engaged regulators, trade associations, consultants and processors to identify best practices, obstacles and opportunities, and the business case for accelerating the state's scrap tire industry.
Ultimately, the study zeroed in on three themes for a path forward:
Emphasize the creation of demand-pull revenue streams; in so doing, expand EGLE's measurement and goal-setting to also calibrate economic value creation, rather than solely scrap tire usage.
Foster a collaborative approach for market development – across Michigan agencies, state boundaries, and public and private entities.
Focus intently on elevating the RMA market in Michigan.
The concept of demand-pull is an embrace of fundamental business economics. It follows the principle that sustained cash flow – based on customer demand, without subsidies and mandates – is essential for market growth and prosperity.
Allocation of funds for cleanup operations and law enforcement, while certainly appreciated by the beneficiary communities, is not regenerative. Furthermore, investing in capacity by itself for processing scrap tires (into TDA and GTR, for instance) without a revenue stream to follow will only lead to insolvency. Accordingly, EGLE is examining ways to shift enforcement and cleanup programs toward more efficient, independent means, allowing greater fund allocations for market growth.
Additionally, the agency is providing capacity grants only when demand for the resulting scrap tire product can be verified. Officials are also being careful to provide subsidies only as a path toward mitigating the short-term obstacles of risk-averse regulators, learning curves and a lack of scale economies; in the longer-term, these markets need to stand on their own.
Taking this "cash flow" page from the business playbook logically prompts the question: Where is the best value?
Indeed, the price points among scrap tire markets are quite disparate. TDF, for example, generates $30 per ton of material; RMA, by notable comparison, can demand $300 per ton; and the smaller size (finer mesh) GTR markets can command up to $500 per ton. Such favorable pricing will not only drive higher scrap tire reuse volumes, but also create private sector growth, which leads to jobs, tax revenues and other community benefits.
"As we began examining the scrap tire industry through the economic lens, we realized how much more we could do in guiding our grants," said Kirsten Clemens, EGLE's scrap tire coordinator. "We are now setting our goals and measuring our impact based on value-creation and not just waste reduction."
A complicated ecosystem
Successfully developing higher-revenue markets requires more than just state grant funding. EGLE recognized that the scrap tire ecosystem of decision-makers, stakeholders and contributors is vast. Only through broad-based collaboration can substantive market transformations be possible.
There are numerous examples of the complicating factors within a project to bolster scrap tire markets.
Approvals from multiple regulatory agencies are required for products to be used in infrastructure and construction. Municipalities need to agree on joint projects, such as roads and drainage systems that transcend boundaries. Private sector processors are often serving more than one state (and commingling their supply chains), so inter-state cooperation – and sometimes joint partnerships among competitors – becomes necessary.
EGLE, with its Scrap Tire Advisory Committee (STAC), strives to ease the collaborative process. STAC works closely with partner agencies such as the Department of Transportation and the Michigan Economic Development Corporation. Additionally, EGLE has close working relationships with the U.S. Tire Manufacturers Association (USTMA), whose member firms are the national tire producers, and the U.S. Scrap Tire Workgroup, a multi-state NGO championed by the EPA.
Through their relationships, EGLE even has a global reach. One example is the World Business Council on Sustainable Development Tire Industry Project (WBCSD TIP); USTMA has been partnering with their overseas counterparts and TIP to conduct a series of stakeholder workshops. The results of this endeavor are expected to bring the opportunities for collaboration into an even sharper worldwide focus.
"We have been very happy with the robust and engaged participation in this series of virtual sessions and anticipate that we will identify a number of impactful workstreams for our global partners to activate," explained John Sheerin, USTMA's director of end-of-life tire programs.
Collaboration on display
The third major theme in EGLE's roadmap is the concerted emphasis on the RMA market.
EGLE recognized that pursuing a focused and mission-driven approach on RMA would be a great way to galvanize the ecosystem. Essentially, EGLE can demonstrate the key building blocks of collaboration, demand-driven grant-making, and economic value creation.
Collaboration comes in the form of working with MDOT and other regulatory agencies to establish a more permissive RMA specification. This effort will by necessity reach across state boundaries to counterpart regulators and multi-state processors. Meanwhile, communities will be partnering to create a critical mass of road-miles, enabling scale economies and building broader public awareness.
Cost-effective methods, such as dry mix RMA and rubber-modified chip seal, will be employed, having proven themselves in rigorous evaluation programs in many locales, including the Illinois Tollway and Dickinson County, Michigan.
Tying to national trends
For the U.S. scrap tire industry, the path forward seems promising. Nationally, there is a convergence of policy initiatives toward environment, social needs, infrastructure and economic prosperity. This emerging alignment seems perfectly timed to enable the needed synthesis of collaboration and innovation for accelerating a circular tire economy.
All 50 U.S. states are destined to benefit, and Michigan is ready and willing to help lead the way.
Bill Hall is associate senior consultant at RRS and can be contacted at [email protected]. Chris Theriot is associate senior consultant at RRS and can be contacted at [email protected].