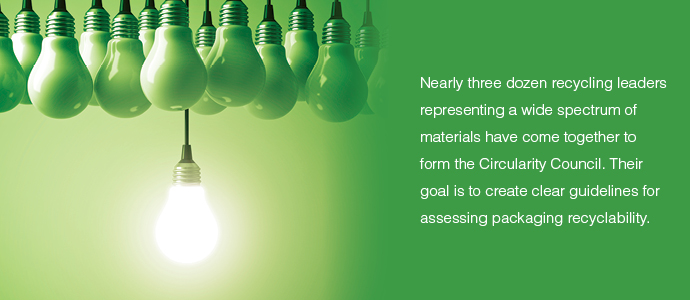 This article appeared in the June 2021 issue of Resource Recycling. Subscribe today for access to all print content.
Our current recycling system puts materials worth billions of dollars in the dump every year, and there are two basic reasons for this.
First, many households in the U.S. do not have access to residential recycling (and if they do, there is confusion about what is and is not recyclable). And second, much of our packaging is not designed to be recycled. We are missing a huge opportunity to create a more circular system that benefits our economy through jobs and the value of recyclables and makes progress on climate goals.
While many companies have set ambitious packaging and sustainability targets, they need strategic industry partners to ensure their efforts are meaningful, impactful and measurable. The mission of The Recycling Partnership is to use an "insist and assist" approach to help brands uphold their sustainability commitments while delivering measurable impacts to all communities.
A Path to Recyclability
Progressing a package to be commonly accepted for recycling is complex and unclear in today's system. Stakeholders from across the industry have been asking for much needed transparency and industry collaboration in the process of assessing packaging recyclability and circularity. There has not been a comprehensive process to achieve circularity and true recyclability for materials or packages. At no point is the industry – the very people most affected by these decisions – consistently consulted to set this path to recyclability.
That's why The Recycling Partnership established the Circularity Council, an influential group of subject matter experts and senior leaders, to break down barriers and catalyze system change. The Partnership believes this collection of people can lead the bold change needed to establish stronger, smarter recycling outcomes for important materials and innovative packaging.
The council of 35 industry leaders represents manufacturers, materials recovery facilities (MRFs), reprocessors, brands, governments, NGOs and retailers (see sidebar for the complete list). They will work to align on an action-oriented and solutions-based framework positioned to answer the industry's unanswered questions through The Pathway to Circularity initiative.
The Pathway to Circularity defines the building blocks to help brands successfully navigate current and future packaging and recycling system challenges, making circularity tangible. The Pathway framework strives to deliver new depth to industry conversations and bring to light the interdependence of the varying factors that shape recycling and circularity.
This Council has aligned on five key building blocks that make up the framework of The Pathway to Circularity – packaging fate, capture journey, design for circularity, package prevalence, and MRF and community adoption. Within each building block are key requirements for circular packaging – these include important details such as public access, material capture rate at a MFR, critical mass for recyclability within a specific packaging segment, end market demand, and more.
Why exactly is this work needed? As an example, when defining access for recyclability, currently, the industry points to the 60% recycling access threshold set by the Federal Trade Commission (FTC) – that guidance says that if 60% of U.S. households have access to recycling for a specific material, then that material can be considered recyclable. There are many other factors that determine if a package can be recycled, but no other clear thresholds exist beyond the FTC guideline. This is why the Partnership launched the innovative Pathway to Circularity and Circularity Council.
The Pathway to Circularity is a first-of-its-kind transparent framework that addresses packaging recyclability and circularity challenges; it is intended to bring necessary clarity for more stakeholders to successfully navigate and advance the circular economy.
Thresholds to provide clarity
The Circularity Council will address the missing and needed determinants for recyclability of packaging, initiating a national engagement around solution building. It meets regularly to discuss the crucial missing and needed determinants for recyclable and circular packaging.
In January 2021, the Council aligned and set its first of several critical thresholds, the threshold for successful capture in a MRF.
Previously, despite many brands conducting MRF testing to understand package recyclability, there was no common metric that could be used to describe successful sortation and capture. Is a given package successfully captured at a MRF? There has never been a clear definition or answer. Without any thresholds or guidance, brands were operating without direction and no answer to the bigger question of how a new package would be accepted for recycling in MRFs across the U.S.
The MRF capture rate is defined by the Circularity Council as the percentage of package or material that enters the MRF and is subsequently captured in the correct bale or bunker to be sent to market. The Council reached consensus that the MRF Capture Rate threshold should be 90%. Setting a high threshold helps to push for reduced contamination in MRFs, and it also rejuvenates trust in the recycling system, assuring residents that what they put in their bin is recycled and given a second life. The Council made great progress in setting this initial threshold, and work is now underway to develop the protocols for companies to use to meet the 90% target.
The next threshold the Circularity Council is discussing is one relating to critical mass. This metric is defined as the market share needed to transition to the recyclable format for a packaging category to be considered recyclable. This threshold is needed because if one item within a package type is recyclable, but the rest are not, it leads to consumer confusion and results in more contamination.
Imagine a scenario where a single brand or manufacturer transitions a previously non-recyclable package to a recyclable format, but there are other brands using the non-recyclable format. Perhaps over time, other brands also transition to recyclable. What percentage of the package category must be recyclable for the entire category to be considered recyclable? With a threshold identified, packaging designers and brands will have clearer targets as they develop products.
The Council will continue to meet to discuss more areas of recyclability that need clarity as well as consider additional factors such as recycled content. Next steps would include engaging the industry in discussion about how to integrate and further embed these elements.
Ultimately, these thresholds will help increase circular packaging, reduce contamination, and provide a framework to assist producers with packaging and material decisions. This serves as an important first step toward bringing needed clarity to the U.S. residential recycling system so that packaging producers have the information they need on their materials to ensure their recyclability.
The larger circular economy goal
To improve the U.S. residential recycling system, we must focus on the circularity of individual materials and break down system complexities. These new thresholds (and those developed by this Council in the future) will bring clarity to the industry and allow more stakeholders to successfully meet their climate and sustainability goals while activating a circular economy.
We know that recyclable packaging alone cannot deliver the circular economy, but a circular economy will transform recycling as we know it today. That is why The Recycling Partnership is proud to see the progress of the Circularity Council and the Pathway to Circularity initiative.
Many steps are needed to fix the recycling system and move the U.S. toward the circular economy that so many stakeholders wish to see materialize. It is our belief that the Pathway to Circularity and the Circularity Council are a step in the right direction.
Our Pathway to Circularity provides a strategic assessment that guides efforts to address issues at each step in the recycling supply chain. We are bringing the industry together in a way that has not been done before and is required to reach alignment and consensus in effecting meaningful system change.
The inaugural members of this Council play a critical role in making this system change happen. With collective experience and leadership, the Circularity Council stands to positively impact the entire industry. Not only are real solutions within our reach, but action now will protect the environment, address climate change, and deliver new jobs and economic benefits.
Ali Blandina is the director of circular ventures at The Recycling Partnership and can be contacted at [email protected].
Please contact us at [email protected] if you would like to partner with The Recycling Partnership on these efforts to catalyze change.