In mid-December, the U.S. Department of Labor released statistics on on-the-job fatalities for different sectors in the United States in 2019. Once again, waste and recycling collection proved to be one of the country's most dangerous jobs, ranking sixth on the report's list of deadliest occupations.
The workplace fatality rate for waste and recycling collectors in 2019 was 35.2 per 100,000 full time equivalent workers. According to analysis from the Solid Waste Association of North America (SWANA), this 2019 number represented an improvement from 2018 (when the industry's collector death rate was 44.3) but was a slight rise from both 2017 (35.0) and 2016 (34.1).
The federal statistics indicated a total of 43 waste and recycling collectors died in workplace incidents in 2019, and SWANA noted that was an improvement from the 57 fatalities in 2018. But as the bottom graph to the right indicates, collection deaths have generally seen an upward trend over the past decade.
"The frequency of these fatal incidents is still above historical averages, and remains too high," David Biderman, SWANA's executive director and CEO, said in a press release.
The organization will be addressing the issue and also releasing its own safety tabulations for 2020 at its virtual Safety Summit, taking place Feb. 25. Find more details at swana.swoogo.com/safety-summit.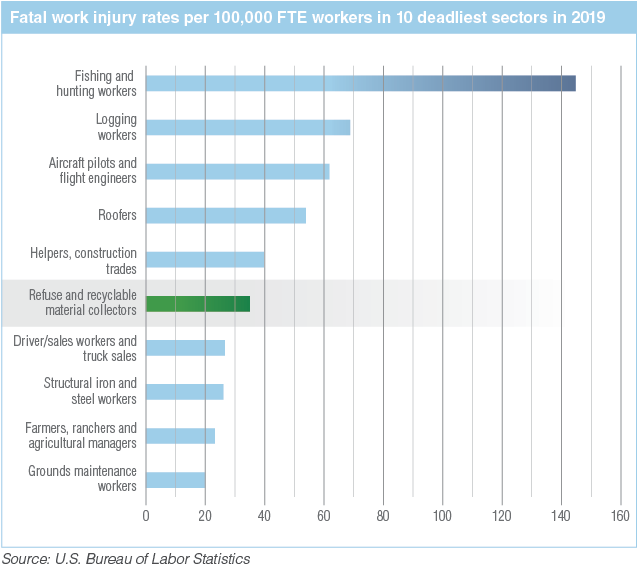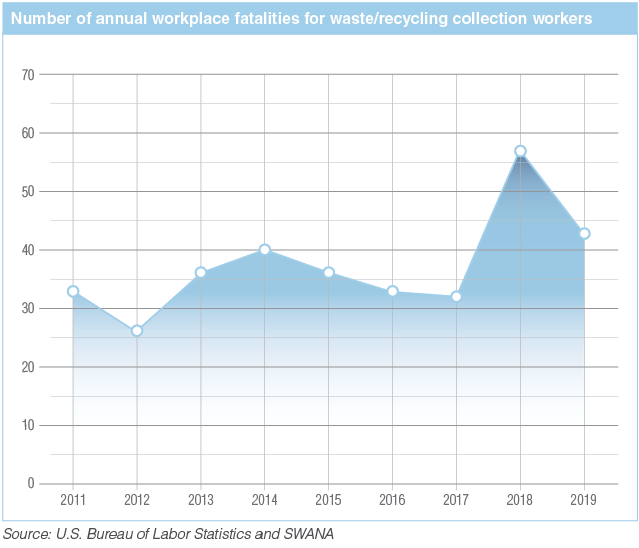 This article appeared in the February 2021 issue of Resource Recycling. Subscribe today for access to all print content.