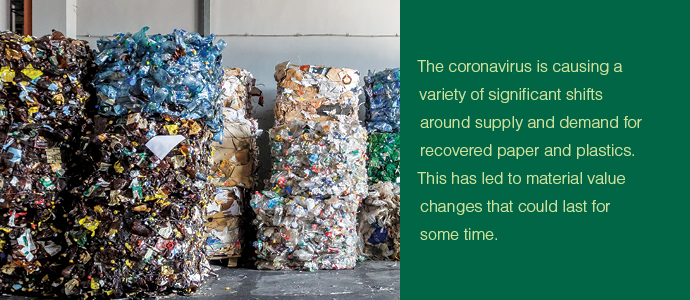 This article appeared in the June 2020 issue of Resource Recycling. Subscribe today for access to all print content.
Within the municipal recycling sector, much discussion has been devoted to how the COVID-19 fallout is being felt in collection and processing. Stay-at-home orders have shifted tonnages from the commercial sector to the residential realm, and operators have implemented social distancing to keep workers safe.
But significant virus-related fluctuations are also happening in the markets for curbside materials.
Without the continuous supply of clean OCC and other fiber from commercial generators, paper mills are relying more on materials from municipal recycling, and prices have shot upward as a result. At the same time, however, values for curbside plastics have fallen due to the ways COVID-19 has reshaped energy and manufacturing markets.
What exactly is happening around fiber and plastic pricing, and where can stakeholders expect things to go from here? Let's dig in.
Higher paper prices will likely remain
The U.S. recovered paper market was relatively unaffected by COVID-19 until mid-March, when coronavirus response measures were rolled out around the country.
But over the course of two months, things changed quickly. OCC was trading at a national average of $107 per ton in mid-May, up from $73 per ton in April and $45 per ton in March, according to RecyclingMarkets.net (see back page of this magazine for more fiber pricing details). Mill executives anticipate the OCC pressure will continue for months.
Once stay-at-home orders and business closures took hold across the U.S., recovered supply was "hit very hard," explained Hannah Zhao, senior economist of global recovered paper for analysis firm RISI, on a recent RISI webinar. Generation of OCC and sorted office paper "declined very sharply" after schools, offices, stores and other large paper users shut down.
E-commerce increased, but OCC in the residential stream did not increase enough to make up for commercial declines, Zhao said. Additionally, materials recovery facilities (MRFs) and other paper recycling operations dialed back their sorting efforts to protect employees, further limiting material supply.
Although many retail businesses stopped generating OCC because they temporarily shuttered, grocery-store generation spiked due to consumers increasing their spending at those outlets. Still, the increase from grocery stores was far from being sufficient to offset the generation decline in other sectors, Zhao explained.
"Overall U.S. recovered paper collection is estimated to have declined by about 30% to 50% in the second half of March and April," Zhao said.
Compared with the sharp decline in supply, demand for recovered paper among packaging producers has been stable and even elevated in North America. Demand was boosted temporarily by consumers stocking up on products and by packaging companies trying to rebuild the supply chain, Zhao explained.
Prices increased accordingly, and some paper mills are trying to replace OCC with mixed paper, Zhao said. Tissue mills, meanwhile, are considering using more virgin pulp if sorted office paper supply continues to diminish, she added.
She predicted recovered fiber demand will weaken, however, as the economy slogs through the coming months and paper packaging demand declines from its current surge.
Mills feeling the pinch
Large U.S. consumers of recovered fiber also recently offered their perspective on the situation.
In his company's April 30 earnings call, International Paper CEO Mark Sutton described the impact from business shutdowns, noting that roughly 30% of OCC generated in the U.S. comes from imported shipping boxes, many of which enter the recycling system through the retail sector.
"That's really ratcheted down a lot right now and likely will take a while to come back," Sutton said.
WestRock described a similar impact. Demand for recycled fiber has been consistent. But starting in March, the company began to see a downturn in OCC generation due to retail store closures, said Jeff Chalovich, the company's chief commercial officer, in the company's May 5 earnings call. The demand shortage has led to a price hike of $50 per ton since December, he said.
The realities around material generation are exposing stark differences in terms of efficiency between commercial and residential recycling systems.
"Getting it from the consumer is a lot more difficult than getting it from the foodservice sector or the retail sector," noted Thomas Hassfurther, executive vice president for corrugated products at Packaging Corporation of America, on April 28. "And I think that's going to be a trend that we're going to be dealing with for quite some time."
Generation is low to the point where packaging and recycling giant Sonoco has begun keeping more of its OCC in the U.S.
"We've actually pulled back ourselves in terms of export to make sure we've got enough material to manage our own network here," CEO R. Howard Coker said. He added that the company does not anticipate the situation to change soon and that "we expect to see further pressure on price as we head deeper in the [second] quarter."
Prices for recovered fiber grades are up as much as four times compared with levels seen earlier in 2020, said Tim Nicholls, senior vice president and chief financial officer for International Paper.
How the situation unfolds over the rest of this year remains unclear, he noted, with everything resting on the economy reopening.
"It depends on how fast and what degree, because this is really a generation issue where certain parts of the supply chain for OCC have been impacted quite negatively," Nicholls said.
The company is anticipating $55 million in higher input costs in the second quarter, driven primarily by the recovered fiber price hike, Nicholls said.

Oil and manufacturing trends hit resin pricing
On the plastics side of the industry, the coronavirus pandemic has piled on top of existing recycling market strife to cause pricing fluctuations and create lots of uncertainty.
The average national price for sorted PET containers fell from 10.65 cents per pound in January to 7.81 cents per pound in May, according to RecyclingMarkets.net data. Natural HDPE, which was at a historic high of nearly 60 cents per pound in January, had fallen to 36.00 cents per pound in May. And polypropylene fell from 5.81 cents per pound to 3.00 cents per pound in that time frame.
Recycling markets for many recycled resins have been challenged for the past few years due to shifts in overseas demand. Now, the COVID-19 situation has added a general slowdown in manufacturing. Additionally, this spring brought historic drops in oil prices, pushing down the cost of virgin plastic and applying pressure to recycled resin values.
The oil pricing plunge is the result of a decline in global oil demand due to the coronavirus as well as a surge in production following disagreements between major oil producing countries. Although top oil producers reached an agreement on production cuts in April, the glut of supply has continued. Oil pricing did see a bit of a rebound in May as states began to lift lockdown orders.
Virgin plastics pricing tends to follow oil and natural gas because petrochemicals are important feedstocks for plastic production. And recycled plastic pricing follows virgin trends.
"The premium price that we have to be willing to pay for recycled PET is going to be significant, and higher than we previously expected," said Tison Keel, director of PET, PTA & EO derivatives for IHS Markit. Keel spoke on an April 30 webinar hosted by the National Recycling Coalition, U.S. EPA and industry consultancy RRS.
"It's going to be difficult," he added. "You've got too much raw material, too much product. You've got very low-cost crude oil that's going to further depress the prices."
Recycled plastics markets are going to be pressured by prime prices for at least the next two years, according to recent analysis by IHS Markit. During that time, "even in the most optimistic case, the crude oil price that we're forecasting doesn't get back up to where it has been for the last couple of years," Keel said.
Additionally, recycled plastic pricing cannot fluctuate as easily as virgin pricing. Whether virgin prices are high or low, the cost of producing high-quality recycled pellets remains largely the same, Keel explained.
Sustainability measures affected?
The PET situation is similar to what PE and PP markets are facing, with virgin prices dropping to levels they haven't hit for more than a decade but the cost to produce recycled resin remaining constant.
"We thought the conditions were challenging before all this; conditions for recyclers are now even more challenging," said Joel Morales, IHS Markit's senior director of Polyolefins Americas, during the April 30 webinar.
Prior to the coronavirus impacts, there was a large increase in virgin PE and PP production capacity coming on-line. But now "the overarching impact to the globe is much less demand than we were anticipating" for both PP and PE, Morales said. That means resin producers are going to be challenged with their margins, he said.
In some markets, however, the coronavirus is growing demand for resin producers.
Morales pointed to bag bans being delayed or suspended in numerous communities around the country, explaining this is another unexpected change in plastics markets. Markets that were projected to be down by 5% to 8% due to bag bans are now "booming" due to the bag law suspensions, Morales said.
"Single-use plastic has definitely got an injection near-term," Morales said. "We're trying to determine how long that will last."
In recent years, a number of large brands and packaging stakeholders have set aggressive targets to incorporate high percentages of recycled plastic into their products. IHS predicts such sustainability measures will come back into play in the future, but it's unclear whether that starts back up later this year, or whether priorities change until long past the impact of COVID-19.
"We're going to really see a test on sustainability for some of the brand owners and their goals," said Morales.
The plastics recycling sector was already facing difficulties on the supply side, with several analyses in 2019 indicating not nearly enough PET was being collected to meet projected demand. There are efforts underway to improve collection, with more emphasis on this area seen over the last 12 months, Keel noted during the webinar.
But that momentum has paused, and in some cases, collection is backsliding through suspensions of curbside programs and container deposit redemptions.
"COVID-19 has really thrown a wrench into the works, if you will," Keel said.
More PET is going into the landfill as a result, Keel said, and he anticipates it will be hard enough to get PET collection back up to its former rate in the short term, let alone grow it to new heights.
Colin Staub is the senior reporter at Resource Recycling and can be contacted at [email protected]. Dan Leif is the managing editor of Resource Recycling and can be contacted at [email protected].