Few businesses can say they've been around for a century, but precious metals refiner Gannon & Scott now can make the claim.
The company began in Rhode Island in 1919 as a precious metals recovery outlet for the jewelry manufacturing sector, and it has evolved through the decades.
In 2001, the business began focusing on material from scrap electronics, opening a plant in Phoenix to serve Silicon Valley. Soon thereafter, Gannon & Scott's Rhode Island operation began handling e-scrap sourced from the Northeast. In Rhode Island, the company now operates two separate sites: one built in 1984 and a larger facility commissioned in 2013.
The firm recovers and refines precious metals and copper from electronic components using thermal, mechanical and chemical processes. Gannon & Scott sources a variety of types of e-scrap materials, including high-density circuit boards, integrated circuits, and microwave and RF components.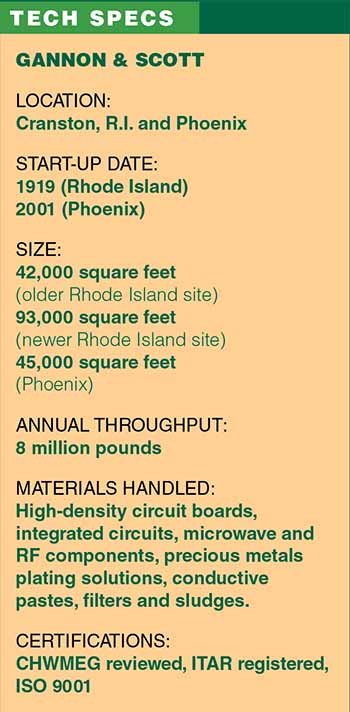 "Our recovery processes offer the best economics for electronic waste streams with at least $8 to $10 per pound in precious metal residuals," said Ganon & Scott President Chris Jones. "We also accept lower-level precious metal residuals from established customers – typically in low-to-moderate volumes that can be added to the primary combustion process."
A central component of the company's processing efficiency is its TRu3Tec thermal reduction system, designed by the company to recover precious metals from devices and subassemblies that have high metals content. The system (pictured above) can process several tons of high-density PC boards per hour.
"We recognized the emerging needs of the electronics industry to process more mixed materials," Jones said, noting the equipment's multi-stage air emission system reduces the formation of combustion byproducts by leveraging environmental controls such as afterburners and scrubbers.
Another eco-minded step from the company: Solar arrays installed on the roofs of its facilities on both coasts produce excess electricity that is returned to the grid.
When it comes to metals melting, the company can handle a variety of materials and multiple lots simultaneously. Gannon & Scott's foundries utilize electric induction furnaces ranging in size from 1-ton to 5-pound capacities.
Gannon & Scott also utilizes an in-house laboratory to analyze incoming material and outgoing products to ensure transparency and security.
"Recyclers that can isolate integrated circuits, memory chips, certain capacitors and other high-value targets will see the highest returns on a volume basis," Jones said. "Beyond that, it does not typically pay to disassemble complex components, so we help recyclers eliminate labor. At the same time, because we offer total destruction of sensitive materials and avoid landfills, we can help reduce liability."
This article appeared in the April 2020 issue of Resource Recycling. Subscribe today for access to all print content.