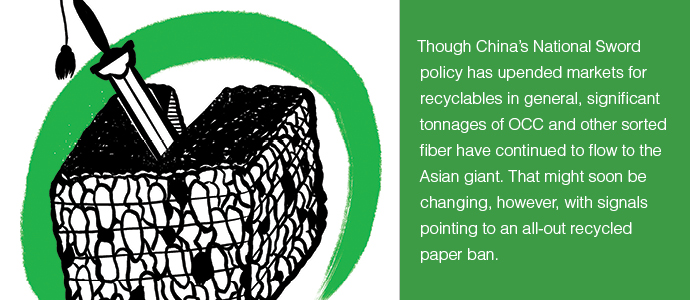 This article appeared in the January 2020 issue of Resource Recycling. Subscribe today for access to all print content.
Materials recovery facilities, local program leaders and others involved in municipal recycling know well how Chinese waste import policies have affected the sector.
With the world's largest country only allowing in a relative trickle of recycled commodities, the global demand for materials has shrunk considerably – and prices have fallen.
But China, it seems, is not done disrupting the flow.
Recent actions by the Chinese government indicate the country will likely ban imports of old corrugated containers (OCC) and almost all other fiber grades in 2021.
Top Chinese paper companies were recently summoned to a government meeting to discuss future recovered fiber import restrictions. A key trade association within China says the ban is a surety. And sources report major investment activity across Southeast Asia by paper manufacturers anticipating a supply void in the coming years.
In fact, the largest paper company in China says it has "already prepared for the worst" when it comes to securing recovered fiber feedstock.
Fiber export insiders say those factors are sparking action among their businesses.
"We're diversifying, we're going to try to maximize our sales to other countries," said Jimmy Yang, CEO of Newport Beach, Calif.-based Newport CH International, a major broker of recovered fiber to China. "We're expecting volume to drop, that's just reality – we enjoyed great markets for the past 20 years, and maybe things are going to change now."
'This ban will go forward'
Details surrounding upcoming shifts from China on recovered paper imports were laid out this fall by the leader of Kadant, a publicly traded supplier of equipment for recycled paper mills.
During the Westford, Mass.-based company's third-quarter earnings call on Oct. 30, CEO Jeff Powell described a recent trip to China. Contacts there told Powell they expect more equipment investments "as strategies are finalized to relieve the fiber shortages resulting from the China waste paper ban."
While in China, Powell also met with the head of the China Paper Association, which represents the country's paper industry.
"He tells us that in fact this ban will go forward," Powell said during the earnings call. "They'll continue to reduce the import permits next year and that will be completely eliminated in 2021."
The China Paper Association could not be reached by Resource Recycling for verification.
Yang of Newport CH noted he also visited China in the fall of 2019, and during that trip he learned about a meeting between government officials in Beijing and the major paper mill operators in the country, all of whom attended, Yang said.
At the meeting, officials told the companies to anticipate lower import license volumes during the fourth quarter of this year, said Yang, whose business has at times moved up to 90% of its fiber to China. He noted Chinese officials said a ban is coming in 2021 for all paper grades except newsprint, which could continue to enter the country for newspaper production. (An all-out fiber import ban was first presented by the Chinese government as a possibility in 2018.)
That information led Yang and his colleagues at Newport to conclude the Chinese government may be serious about barring fiber imports altogether.
"Since then, we've seen folks from all the big mills all over the other countries now," said Jim Fagelson, vice president of Newport CH, noting Chinese paper makers are not only installing recycled paper machines in other areas of the world but are also entering supply contracts for fiber feedstock.
"They're in a little bit of a panic," Fagelson added.
A major supply gap
Powell of Kadant noted during the company's earnings call that if China does in fact institute a total ban on imported recovered fiber, paper manufacturers in the country would have to fill a shortfall of 30 million tons of feedstock they used to receive through import channels, assuming they continue similar production levels.
According to Resource Recycling analysis of data from China's General Administration of Customs, in 2016, before China's import ban, the country brought in roughly 31.4 million short tons of recovered fiber. This year, through October, just 9.8 million short tons have been imported into China.
To work to fill that gap, a logical step for Chinese paper consumers is to invest in processing in Southeast Asia.
The basic idea is to process raw recovered fiber outside China and move the finished pulp into China for use in fiber products, but there are logistical considerations every step of the way.
"They've got a very short timeline between processing the fiber and shipping it to mainland China to get it in," Kadant's Powell explained on the earnings call. Otherwise, the quality can start to deteriorate as biological activity begins due to moisture, Powell said.
Those realities explain why Southeast Asia is a logical intermediary for processing. From Taiwan, for example, it takes roughly two days to ship to China, according to Yang of Newport CH. That means recycled pulp can be shipped in its wet form instead of requiring drying, which incurs additional energy costs. In contrast, pulp shipped from the U.S. would need to be dried to avoid mold or other degradation from moisture during the long travel period.
The largest Chinese paper companies are currently working to set up operations in Malaysia, Yang noted, but they are encountering plenty of obstacles.
"You're talking about a foreign country, different people, different customs, different culture," Yang said. "It's not going to be so easy to expand."
Powell of Kadant said that by the end of the third quarter of 2019, his company had supplied or received orders to supply 18 recovered fiber processing plants outside China, and he said those facilities should come on-line over the next 12 months.
But those projects are far from filling the projected supply void: The 18 orders Powell said his company has received "only represents about 4 million tons replacement," far short of the potential 30-million-ton need.
Newport CH's Fagelson predicted it will take between two and four years from the time of the ban for the market to find balance moving forward.
"It's a struggle, but ultimately it will play out because the market factors will play in: Tons will shift to other places," he said.
Nine Dragons moves to secure supply
Despite logistical hurdles, Chinese paper giants are moving to react to the market and additional import action that could be coming.
Hong Kong-headquartered Nine Dragons Paper released a comprehensive fiscal-year-end report this fall, touching on the year's numerous challenges.
The company is a massive consumer of recovered paper for production of containerboard materials, printing and writing papers, recycled pulp, and more. During the 2019 fiscal year, Nine Dragons sold more than 14.1 million metric tons of paper products, a record high sales volume.
"The extensive and diversified global procurement network of recovered paper has been Nine Dragon Paper's competitive advantage throughout these years," wrote Cheung Yan, chairwoman of Nine Dragons, in a letter to shareholders.
Cheung touched on the numerous changes going on within the wider Chinese economy currently, including a variety of economic stimulus policies, "supply-side reform," and general economic growth. She noted that downstream demand for Nine Dragons' products has been impacted by the trade war between the U.S. and China.
"As for the changes in raw material supply, we have already prepared for the worst," Cheung wrote.
Citing the Chinese government's efforts to promote recycling of domestically generated scrap fiber, Cheung said Nine Dragons has "strengthened our efforts in expanding the domestic purchase channels for recovered paper."
Meanwhile, the fiber giant has "continued to explore opportunities to expand the production capacity of recycled pulp overseas with an aim to fully utilize quality imported recovered paper procured at low price as our raw materials."
"We believe that this two-pronged approach would help to ensure both the supply and quality of our raw materials," Cheung wrote.
Investments in American mills
On the topic of pulp supply, Cheung referenced the company's Old Town, Maine virgin pulp mill, which has a production capacity of about 160,000 metric tons per year. Nine Dragons acquired this mill and three others in the U.S. in 2018, its first-ever U.S. acquisitions. The company installed recycled pulp lines at two of the U.S. mills, and currently has 218,000 metric tons of recycled pulp capacity in the U.S.
Nine Dragons plans to upgrade equipment at all four U.S. mills in the next two years, Cheung wrote.
The company is also moving quickly to secure recycled pulp production capacity closer to home. Two months ago, Nine Dragons purchased a Malaysian company with 480,000 metric tons per year of recycled pulp capacity on two machines.
All told, between its U.S. and Malaysian production lines, the paper giant currently has more than 850,000 metric tons per year of pulp capacity.
And it has additional expansion plans, according to the Nine Dragons report, because "the amount of domestic recovered paper is expected not enough to satisfy the entire market demand."
"The resulting supply gap in recovered paper would bring an impact to the paper manufacturing industry that should not be underestimated," the report stated.
To avoid such a gap, Nine Dragons is looking to nearly double pulp production capacity in the next year, reaching 1.61 million metric tons per year by 2021.
Most of that increase will come from recycled pulp produced at the company's U.S. mills. According to a production schedule included in the report, Nine Dragons plans to add:
240,000 metric tons of recycled pulp capacity at its Biron, Wis. mill by 2020.
60,000 metric tons of recycled pulp capacity at its Fairmont, W.Va. mill by 2020 and another 60,000 metric tons by 2021.
200,000 metric tons of recycled pulp capacity at its Rumford, Maine mill by 2020 and 80,000 tons of virgin pulp capacity by 2020.
115,000 tons of virgin pulp capacity at its Old Town, Maine mill by 2021.
These moves will give Nine Dragons "a better control over the stability of raw material supply as well as the quality and cost efficiencies of production," Cheung wrote.
Looking at the appetite Nine Dragons and other Chinese companies have for recovered fiber, Yang of Newport CH acknowledged it's hard to imagine all fiber imports into China being cut off. Despite current bans, China remains by far the largest buyer of U.S. recovered fiber.
But looking to the recent past provides some context.
"We also said the same thing about plastics earlier, and they were serious about plastics," Yang noted. "We said it about mixed paper. … When they say they're going to cut it off, they cut it off."
Colin Staub is Resource Recycling's staff writer and can be contacted at [email protected]