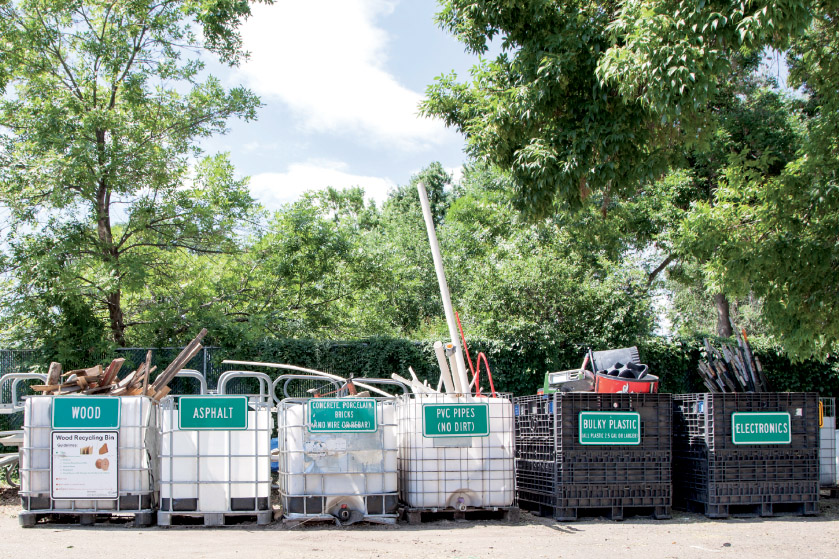 With a local landfill nearing capacity, one mid-sized city in the Rocky Mountain region is planning for the future of its waste management system – and gearing up to tackle additional streams in the process.
Fort Collins, Colo., a college town that's home to about 170,000 residents, has high curbside recycling participation and a diversion rate above the state's average. In 2018, the city's residential program notched a 26.9% diversion rate, according to the most recent data from the city. That came from collecting 8,450 tons of single-stream material.
The effort puts Fort Collins above Colorado's statewide rate of 17.2%, and the city in the coming years has efforts in place to grow diversion further.
Recycling service basics
Fort Collins incentivizes recycling through a pay-as-you-throw system. Residents can choose from three sizes of garbage receptacles, with the price doubling as the size increases. With garbage service, up to two 96-gallon recycling carts are included at no additional charge.
The city has an open-market collection system, and three haulers are licensed to operate in the community. Those companies are required to collect a certain list of materials, but they have the flexibility to collect those materials using whatever collection system they prefer. Currently, the haulers all collect materials through single-stream service.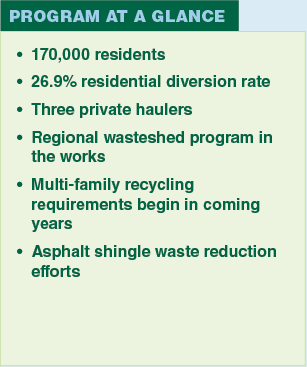 "The city sets the parameters, and the haulers solicit their customers and set pricing in that framework," said Caroline Mitchell, lead waste reduction and recycling specialist for the city.
There are no specific recycling requirements in the city, but there are landfill bans in place for OCC and electronics. Thanks to the automatic recycling service with garbage collection, 96% of residents receive recycling service.
Most of the collected recyclables are delivered to the Larimer County Recycling Center, which functions like a transfer station. The county-owned facility is privately run by contract, and it ships material to Waste Management's Franklin St. MRF in Denver, about 65 miles south.
The city also owns and operates a drop-off recycling location, the Timberline Recycling Center. This site accepts everyday recyclables as well as hazardous materials, and the center sees steady traffic.
Fort Collins employees that are engaged on curbside recycling focus on primarily on planning.
"The city's role is creating the policy through which the service is delivered," Mitchell explained. "And we play a strong educational role in the community."
To that end, Fort Collins maintains an online "A-to-Z" recycling tool with a list of the items that most commonly draw questions from residents – including aerosol cans, metal barrels and pumpkins – and it details what can be taken to the drop-off center.
"It's a really robust tool that we're proud of, we've seen strong community response," Mitchell said, noting there were over 4,000 site visits on a single day this fall.
Moving into the future
Fort Collins is currently engaged on a regional project called the North Front Range Regional Wasteshed Coalition. This initiative includes multiple municipalities from around Larimer County, and it is centered on planning for the future. The county's landfill is projected to reach capacity in 2024, and although it's not the only landfill in the area, it's a "primary piece of infrastructure" for the municipalities.
With the pending landfill closure, the coalition went through a three-year process with elected officials and a broad range of stakeholders, Mitchell said.
The result was a master plan that calls for the county to build a new landfill in the north part of the county and to use the existing, centrally located site for a new transfer station, C&D facility and compost facility for yard trimmings and food waste.
"It's a massive leap forward in the diversion infrastructure available," Mitchell said,
In the coming years, the city will also be advancing the scope of residential collection. Lawmakers recently approved an ordinance requiring most multi-family and commercial properties to receive recycling service.
The push comes several years after the city launched its Waste Reduction and Recycling Assistance Program (WRAP) to help businesses and multi-family properties improve recycling service.
"Locations can contact us and we can do on-site assessments and provide educational materials," Mitchell said. "We work with that site to understand their challenges and identify opportunities."
Sometimes, that means evaluating how accessible recycling receptacles are in a multi-family property or looking into the signage that's provided.
That resource will be a "key component" of rolling out additional commercial recycling requirements, Mitchell said.
Tackling an unusual waste stream
In Fort Collins, hail storms are a fact of life. This past July brought a major storm, and with the hail came substantial roof damage. That happens frequently, such that some houses have had multiple roof replacements in the last five years alone.
Because of the roof damage, a high percentage of the material that comes to the landfill is asphalt shingles.
"This year we've issued 8,500 roof permits," said Jonathan Nagel, a senior environmental compliance specialist for the city. "Based on the data we've collected so far, it's about 4 to 5 tons of material coming off a roof."
That could mean as much as 15% of the city's waste stream comes from asphalt shingles.
Hoping to cut down on that volume, the city recently implemented a requirement that roof replacements use Class 4 shingles, which are the highest rated to weather storm damage. These shingles are developed to withstand hail of two inches or larger.
For the overall disposal volume that serves as the denominator in the city's diversion rate, "this will lower it and it'll make it more accurate, which is what we want," Nagel said.
This article appeared in the December 2019 issue of Resource Recycling. Subscribe today for access to all print content.