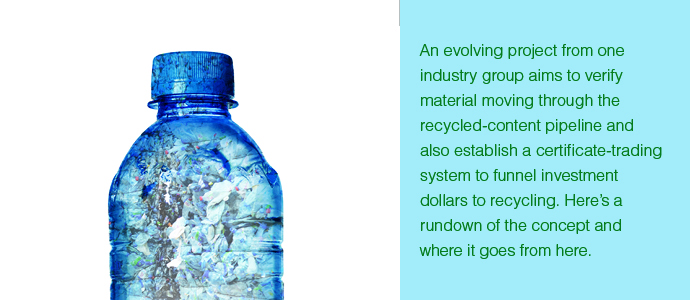 This article appeared in the December 2019 issue of Resource Recycling. Subscribe today for access to all print content.
With more recovered plastics looking for a home domestically and major consumer-facing companies pledging to increase their use of recycled content, it's clear the business of plastics recycling is entering a period filled with potential opportunities.
But it's also obvious that coordination among stakeholders will be a complicated endeavor.
Materials recovery facilities, plastics reclaimers, converters and end users all typically operate independently, and all have their own priorities and requirements when it comes to material.
An emerging project called the Recycled Material Standard (RMS) from nonprofit group GreenBlue is attempting to be the connective tissue between all those actors.
The project, which was formally launched last year and is being guided by a committee of various industry stakeholders, aims to create a single, industry-wide verification for recycled plastic (and then other material types in the future). That fact could increase the public's awareness of post-consumer resin (PCR) – and bump the market value of recovered material.
At the same time, the RMS includes a certificate trading program, modeled after the renewable energy certificates (RECs) that have fueled expansion in wind, solar and other sectors. This could help brand owners move toward their content goals even if a gap exists between what they need and what the supply chain can deliver. And it could bring much-needed investment dollars to innovative recycling operations, including chemical recycling.
Currently, the RMS is in the early development stage, with project participants focused on definitions, rules of order and the other pieces of nitty-gritty that are part of crafting standards and certifications. But they say the work could transform the industry.
"We want people who put materials into the marketplace to actually buy them back," said Andy Smith, the zero waste program manager for Washington's King County and one of the nine individuals making up the RMS stakeholder committee. "RMS has the potential to encourage more of a marketplace around that."
Tracking the chain of custody
The first aspect of the RMS will be familiar to those who have experience with verifications in other industries: It will use third-party auditing to ensure that recycled material moving through the pipeline is in fact recycled.
Under the standard's chain-of-custody umbrella, participants will be able to make two different types of claims, the first of which articulates the percentage of recycled content in a given product.
Currently, this type of material verification does exist at individual points in the plastics recycling chain. For example, Ontario-based plastics recycler EFS-plastics uses a certification from SCS Global to verify to its customers that the resin it's selling is 100% PCR, said Eadaoin Quinn, who is the director of business development and procurement at EFS-plastics and a member of the RMS stakeholder committee.
But once the material moves to the next handler, that certification essentially ends. A converter may mix the EFS material with virgin plastics. Further on, the end user – the customer of the converter – will make its own choices about how to express the use of recycled material to consumers.
The RMS is looking to strengthen assurances across the chain, making it clear to all stakeholders where recycled content is being used and providing a label that can simplify the concept of PCR to members of the public as they look at products and packaging on store shelves.
"It is extremely important for companies selling packaging with recycled content and for recycling industry associations to come together under a unified definition of recycled content," said Quinn. "Once we align behind a common message, then we will be able to effectively communicate why using recycled content is a crucial step in developing a circular economy."
The second chain-of-custody approach in RMS is a credit-based claim, or what some stakeholders call the "mass-balance approach." These types of claims are common for explaining the environmental attributes of products in other industries, such as sustainably managed forest fiber in paper products.
Under such a system, manufacturers would be able to convey the level of recycled material used in their overall process and apply claims to designated product batches. This can be an important tool in helping companies that use, for instance, lots of recycled content in one segment but very little in another.
According to GreenBlue, the two chain of custody claims will likely have two different labels on the packaging or product to help clarify what type of claim is being made.
Fueling demand
If consumers start to grasp the importance of recycled content and see where it's being leveraged, that could start to put more of a premium on PCR, RMS backers say.
"We believe that helping brands be recognized for their use of recycled content will drive an important demand pull that will boost the entire industry," Quinn of EFS-plastics noted.
Aside from the education element, an industry-wide standard could address anxieties some end users have around using recycled material.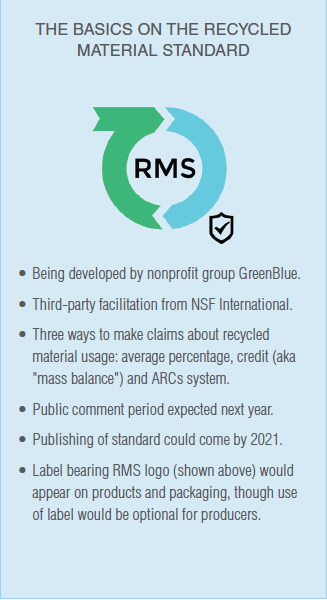 Currently, many of the companies pushing for higher PCR levels are food and beverage manufacturers. The recycled material that converters would use in many of their applications would hold a letter of no objection (LNO) from the U.S. Food and Drug Administration, with the FDA letter serving as proof that the government agency trusts the process by which the recycled resin is produced.
However, according to some packaging insiders, such assurances on their own are not always enough to bring brands to the PCR table.
"We had one [consumer packaged goods] company say, 'The no objection letter shows that everything works when the feed stream is right, but how do we know the next lot is OK too?'" said Mickel Knight, research engineer at packaging manufacturer Printpack. "Any kind of traceability will help. It's one of the bricks in the wall in developing a feed stream that's accountable."
Knight, who is also a member of the RMS stakeholder committee, said that the recycling sector can see big gains in demand if it can assuage these fears of bigger CPGs.
"These companies are so visible," said Knight. "They could be the first sign that people see that we're improving circularity, which could expand the conversation to include variables beyond just ocean waste. And, indeed, improving circularity is one way to begin to address ocean waste."
The ARCs idea
Another component of the RMS is one that has not been tried in recycling previously, so plenty of questions remain about how it might play out in the field. But it holds intriguing possibilities on the financial front.
The Attributes of Recycled Content (ARCs) paradigm is based on certificate trading frameworks that have been successful in renewable energy. The idea is to separate environmental attributes associated with recycled material from the physical material itself.
"For example, post-consumer plastic could be recovered and reprocessed to a resin suitable for plastic pipe or railroad ties – end uses where the market may not place much value on the environmental attributes of recycled content," GreenBlue wrote in a document outlining the scope of RMS. "In this case, the processor could sell the physical product to the pipe producer and sell the ARCs to a different customer, such as a consumer products company that has established a commitment to support recycling."
Each certificate would be the equivalent of 1 metric ton of recycled material, GreenBlue's document explains. The certificates would all be tracked through an RMS registry to ensure double-counting of a single load of recycled product would not occur.
Because the system's goal is to spur development in recycling infrastructure, ARCs would only apply to recycled material being produced by operations that are bringing "additionality" to the market, said Laura Thompson, who is leading the RMS project for GreenBlue.
And what exactly constitutes whether a recycling entity is contributing that additionality? Essentially, whether it's new or not. "The standard will define a baseline of what is considered business as usual and then what is additional," Thompson said. "It boils down to a line in the sand on a time basis. It could be literally a date, or it could be a time span."
Such a system would open up financial avenues and incentives for recycling startups and established entities that may be interested in expanding. And it could hold particular appeal to companies in the burgeoning chemical recycling field – these firms are ultimately trying to break down recovered polymers to their molecular building blocks, which could then be reintroduced to the plastics and chemical manufacturing environment. Because they are not selling traditional recycled resin, it can be difficult for them to quantify the exact amount of virgin plastic they are helping replace. ARCs and RMS in general can help such operators gain financing and recognition.
"People in the chemical recycling space seem really intrigued by this," Thompson noted.
The ARCs idea also has the potential to bring additional investors into the recycling realm.
Smith of King County said carbon credit systems attracted "institutional investors," including banks and other financial institutions that viewed the framework as a straightforward way to put capital into an energy industry that was reinventing itself.
The goal of RMS and the ARCs is to create a similar point of access to investment in plastic recycling's evolution.
"The risk around [investing] is reduced," Smith said. "One, we have these multinationals wanting to participate. Two, we have transparency. And, three, investors have the potential to hedge against price volatility in the future."
According to Knight of Printpack, the ARCs system could evolve in powerful ways once money starts coming into the pipeline.
"As recycling infrastructure improves, the quality of PCR product improves, and people may shift from buying credits to consuming PCR," he said. "The line in the sand money-wise starts moving. Hopefully, PCR use starts moving into increasingly value-added products."
The process from here
Though RMS leaders have clearly defined why the standard is needed and the scope of its potential, plenty of work remains to bring it to implementation.
A key step forward took place this fall, when RMS teamed up with NSF International, a global group that will be facilitating the standard development moving forward (NSF has an auditing arm that works to certify entities to existing certifications, but it also works as a third-party partner to help guide new verification systems like RMS).
NSF's first major effort was leading a discussion of the stakeholder committee at the Sustainable Packaging Coalition's Advance conference in Denver in October (the Sustainable Packaging Coalition is a division of GreenBlue). The group brings both experience and an outside-the-industry voice to the process.
NSF was formed 75 years ago, noted Jessica Evans, the organization's director of standards development, and has developed over 80 currently active public health, safety, environment and sustainability standards to date.
"Throughout these years, NSF has built a strong base of subject matter experts and industry partners and has maintained a standards development process that ensures efficiency, clarity and rigor in the marketplace," Evans said. "Working with a trusted third party ensures credibility for emerging standards and streamlines the process for organizations entering into this space."
Over the next year, discussions and criteria development among the stakeholder committee will continue on a regular basis, Evans noted. And a public comment period is anticipated to begin in the fall of 2020. The actual publishing of the RMS could come as early as 2021.
"That would be in time for companies to take advantage of the standard in terms of their Ellen MacArthur Global Commitments," said Thompson of GreenBlue, referring to the recycled content goals many companies have made in signing on to the Ellen MacArthur Foundation's New Plastic Economy. "Our hope is that this will support those commitments."
It's yet to be determined, however, whether enough brands will be willing to adopt the RMS to give it true across-the-industry sway. And Thompson acknowledged the RMS team still needs to determine how the Federal Trade Commission, which runs the Green Guides program, will view recycled content claims that are based on nontraditional concepts like the buying and selling of ARCs.
"Brands are concerned," Thompson said. "Because this is new, will it be understood by consumers and seen as credible? The agency that governs environmental marketing claims is the FTC."
In short, the next step in building out the standard will be explaining the concept to a wide variety of public and private sector decision-makers – and then incorporating their thoughts and concerns into the process.
"This project will only be successful if the standard takes all perspectives into account – government, MRF operators, plastic recyclers, converters, brands and other industry groups," said Quinn of EFS-plastics. "Finding unity will not always be easy, but this is the most important next step in making the RMS a useful tool."
Dan Leif is the managing editor of Resource Recycling and can be contacted at [email protected].