Triggered by China's National Sword and other policies banning the import of recycled materials, the value breakdown for the two major material categories in single-stream recycling programs has undergone a significant shift.
Up until the end of 2017, fiber (predominantly OCC and mixed paper) dominated the value share of recycled commodities from curbside programs, typically accounting for around 60% of the revenue generated by single-stream materials recovery facilities (MRFs). Containers – including steel and aluminum cans; plastic bottles, jars and tubs; and glass bottles – were responsible for the remainder of the revenue.
Starting in 2018 and continuing into the present, the tables have turned, and containers have surpassed fiber in terms of value in a typical single-stream MRF ton, according to price and composition tracking by RRS. This evolution is shown in the first chart below.
The second chart shows the current snapshot of these two broad material categories, with fiber representing most of the volume in an average single-stream MRF (left side of graph) and containers representing most of the value in terms of revenue (right side). This is indicative of existing markets' ability to absorb a good deal of the additional supply of containers following the Chinese restrictions on imports. Fiber has remained in a state of oversupply and that is due directly to the China ban on mixed paper from MRFs and the inability for domestic markets to absorb it all.
This is not to say that containers have been unaffected by market volatility. Aluminum and steel cans have seen significant price decreases in 2019. PET, HDPE and PP containers have had their ups and downs – as a class, they have lost value but not to the degree of fiber. Though not as volatile, glass is often traded at a cost to MRFs.
One of the key lessons from the recent price fluctuation is the resiliency that domestic end markets provide. The good news for fiber is that North American markets for OCC and mixed paper are being developed to the tune of approximately 2.2 million tons of added annual capacity and are expected to come on-line by the end of 2021, according to the fiber industry analysts at RISI. This could mean a healthier, more resilient recycling industry in the future.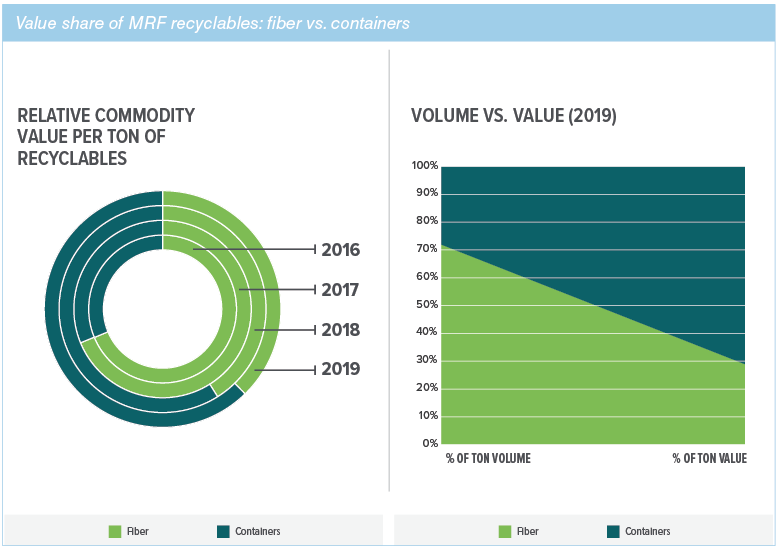 This month's edition of Data Corner provided by recycling consultancy RRS.
This article appeared in the September 2019 issue of Resource Recycling. Subscribe today for access to all print content.