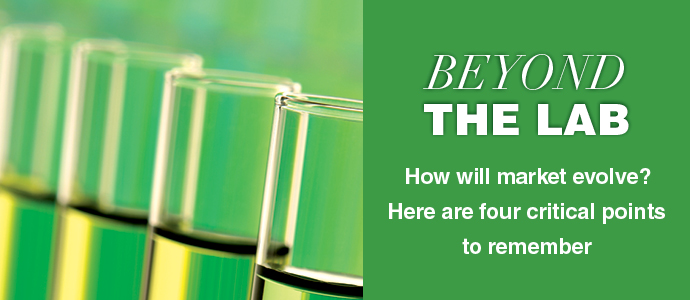 This article originally appeared in the June 2019 issue of Resource Recycling. Subscribe today for access to all print content.
Plastics have a number of important characteristics – they are lightweight, waterproof and durable. But durability is not always a desirable quality in something that is designed for a single use and then sent into the materials management stream.
Enter chemical recycling. The term conveys the idea of using chemicals to turn plastics from a waste into an economic opportunity. I was fortunate to be part of the team that impact investors Closed Loop Partners pulled together last year to analyze the current landscape of technology providers focused on converting waste plastics into a variety of materials. The resulting report (available at closedlooppartners.com/plastics) identified 60 separate enterprises working in the chemical recycling space.
In the course of researching the report, the team got an in-depth look at the ongoing development of chemical recycling business models. Here are four important takeaways on the market and where it may be headed from here.
1. Healthy competition is an encouraging sign
The 60 different technology providers are working on 60 distinct solutions, each different from the other. Why is it good that so many technologies are being developed simultaneously?
First, there's a wide variety and many combinations of plastic types going into waste streams, so there will likely need to be many chemical recycling technologies further commercialized to improve the global plastic pollution problem and seize the economic opportunity. Also, competition forces each individual company or organization to up its game. The good news is that of the 60 technologies reviewed as part of the Closed Loop Partners landscape report, nearly all of them are at least at the lab stage of maturity, with significant potential to grow and scale.
2. Words matter
While working on the landscape report, our team spent a lot of time understanding the math, science and economics of chemical recycling, and we came to the realization that numbers matter, but so do words.
For example, we learned that the term chemical recycling is itself not well understood. The technologies in question are not geared toward the recycling of chemicals, but for people not closely connected to our industry, that very well could be the connotation.
Creating and adopting a shared terminology and a shared understanding of these technologies is critical.
Critical because these 60 technologies differ technically from one another and the words used to describe these technical differences do not always have a shared meaning, which could sow confusion for potential investors, policymakers and the general public.
For example, the landscape report identifies nearly 50 "decomposition" and "conversion" technologies, each of which uses a unique mix of heat, chemistry and pressure to break molecular bonds to recover different monomers, intermediates, polymers, fuels and petrochemicals. However, some regulatory frameworks in North America deem anything that is recycled using heat as a form of incineration or pyrolysis, and technology developers would need to follow rules that make no sense for their technologies.
For the sector to flourish, terms like "purification," "decomposition" and "conversion" are going to need to become universally understood by the full range of stakeholders so that basic technology characterization can occur.
3. Scientists aren't engineers (or bankers)
The individuals researching and commercializing these 60 technologies are among the world's most elite scientists. But in the process of researching the market, we learned that even an incredible scientist needs partners with complementary skill sets in order to succeed in commercializing a chemical recycling technology (or any other innovation).
Scaling up the use of a process requires an engineering ability that is very different from chemistry or physics skills. Perhaps even more distinct is the knowledge and experience needed to make smart business deals and secure financing to grow. World-beating science is a prerequisite to success if you are setting up a chemical recycling venture, but it is not enough. Diversity in skill sets beyond science are needed and strategic partnerships are a must for most chemical recycling technology developers.
4. Success is probable but not inevitable
Ensuring that chemical recycling is part of the global solutions "toolbox" requires concerted, coordinated and persistent efforts. This will mean developing new solutions and business models that integrate innovations with existing infrastructure.
The research shows that chemical recycling can be quite complementary to mechanical recycling. However, bringing the existing system together with new technologies will require a shift in understanding in some parts of the environmental advocacy community to acknowledge chemical recycling solutions as flexible technology platforms that can, and do, evolve over time to go from less circular supply chains (plastic-to-fuel, for instance) to more circular supply chains like plastics-to-monomers.
Collective action, like market incentives as well as infrastructure policy reform, may be needed to catalyze technology development in some jurisdictions.
Commercializing and integrating chemical recycling systems won't be easy, but industry actors should remember the size of the prize is huge. Our analysis, published in the Closed Loop Partners report, demonstrates that technologies can meet the demands a $120 billion per year market in the U.S. and Canada alone.
Dan Zilnik is president of AFARA, a firm that specializes in the math, science and economics of sustainability. He can be contacted at [email protected].