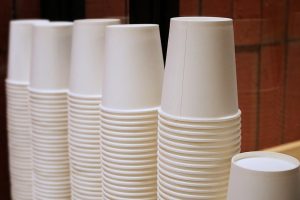 Two fiber packaging companies are ramping up production of a recycling-friendly coating for use on foodservice packaging. Commonly used coatings today can inhibit greater container recovery.
Cascades Inc. and Sonoco Products Company, through their joint venture Cascades Sonoco, invested $17 million in 2018 to expand their Birmingham, Ala. production facility. The money went toward a "water-based functional coating solution to create recyclable, repulpable and compostable containers," the companies said this month.
The facility line has the capacity to produce 55,000 short tons per year of coated paper and paperboard using the water-based barrier, which is branded FlexShield, FluteSHIELD and SurfSHIELD, depending on the application.
"These water-based functional and barrier coatings are designed to replace the non-compostable applications traditionally used in the design of folding carton take-out containers," the companies wrote in a recent release after an event highlighting the production line. "The coatings can also replace the wax used in the corrugated industry."
Typical food packaging coatings can cause problems during the recycling process. For example, the moisture barrier on fiber coffee cups is often a layer of PE, which gets separated from the fiber during the repulping process and creates additional residue. Some mills will buy these poly-coated cups – WestRock began accepting these materials and other fiber foodservice packaging products at its mills across the country, and industry associations have produced a guide for mills on how PE-coated paper cups will fare in a typical mill. But most mills are not accepting them, limiting end markets and preventing greater foodservice packaging recovery.
The water-based coating could allow cups to go to a typical paperboard mill and be repulped without creating additional residue. This could allow cups to be included in a mixed-paper bale without adding PE contamination, recovered fiber expert Bill Moore told Resource Recycling.
However, Moore noted that to achieve the highest value for a high-quality fiber product such as a paper cup, a MRF could create a specific cup bale and sell it to a paper mill.
Photo credit: yy_Apartment/Shutterstock

More stories about fiber