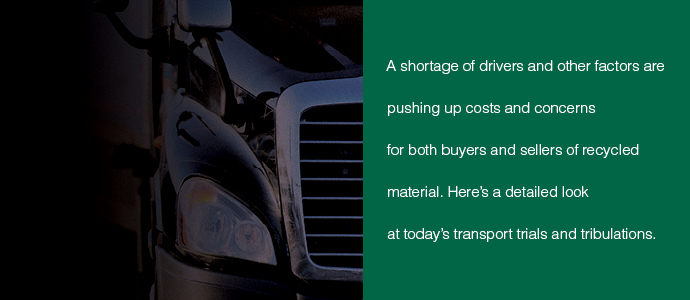 This article originally appeared in the October 2018 issue of Resource Recycling. Subscribe today for access to all print content.
Everybody in the recycling business knows that China's recently implemented scrap import policies have put the business into a state of pandemonium. But China may not be the biggest challenge facing recyclers.
Paper recycling veteran and materials recovery facility (MRF) operator Mick Barry puts it this way: "China is the immediate short-term crisis. But the real crisis facing us in the recycling business is transportation."
Barry, president and principal of Mid America Recycling LLC, which runs MRFs in Des Moines, Iowa and Lincoln, Neb., said a shortage of truck drivers and a number of other transportation concerns are causing consternation for paper mills and their suppliers.
"We have trucking issues and we have rail issues," he said. "There are parts of the country where it's almost impossible to get a truck at all because the carriers need to focus on the most profitable lanes. Higher rates are the result."
What exactly are the factors behind today's freight squeeze? And to what degree are different materials recovery stakeholders being hit? Interviews with a range recycling operators, end users and logistics experts helped shine light on the issue.
Impacts from economics and hours tracking
It's important to make clear that concerns about the freight market are not new. Some observers say the growing shortage of drivers actually started years ago and was magnified by the recession last decade.
Nicole Walton, account manager of logistics services firm C.H. Robinson, says today's struggles have their origins at least as far back as 2004.
"During the weakening economy the need for trucking was diminishing, so a lot of carriers went out of business, sold their trucks or didn't have enough business to keep all their drivers on hand," she said. "As the economy picked up after the recession, we recovered some of those drivers, but we have remained about 20 percent behind the number of drivers we need to maintain a one-to-one driver to load ratio."
According to an October 2017 report from the American Trucking Association (ATA), the trucking industry was at that point short by about 36,500 drivers. The shortage was projected to surpass 50,000 by the end of last year, and could it swell to more than 174,000 by 2026, ATA said.
Walton said much of the issue can be attributed to economic growth that has meant more production and demand for goods, but other factors have also been at play. "When you tack on other things, like ELD mandates, weather and other stress factors, it makes it even more difficult to schedule freight," she noted
ELD stands for "electronic logging device," a piece of technology that automatically monitors a driver's time in service. The devices have been around for years, but most drivers continued to use paper logs until April of this year. That's when all trucks, with some exceptions, were mandated by the Federal Motor Carrier Safety Administration (FMCSA) to use ELDs to ensure that drivers couldn't exceed their allowable time on the job.
Under FMCSA rules, a driver is allowed a period of 14 consecutive hours in which to drive up to 11 hours after being off-duty for 10 or more consecutive hours. The 14-consecutive-hour driving window begins when the driver starts any kind of work, including loading or unloading. Once the driver has reached the end of this 14-consecutive-hour period, he or she cannot drive again until they been off-duty for another 10 consecutive hours.
Although the ELD mandate is for interstate truckers, individual states are expected to adopt similar regulations for intrastate trucking. Texas was the first state to issue an ELD requirement, with a compliance date of Dec. 19, 2019.
According to DAT Solutions, which provides analysis of the truckload freight business, ELDs are likely to reduce overall carrier productivity by 3 to 5 percent.
"There were independent drivers who made their money by driving beyond their paper log," Mid America's Barry said.
"Previously, you could take a load 13 hours in one shot. Now you have to stop, and instead of a one-day trip it's broken into two days."
DAT Solutions has noted the impact will be felt mainly on those truckers that handle longer, one-day hauls of more than 450 miles as well as short-haul operations that push the 14-hour limits.
"Any time ELD requirements cause trips to spill over into a second day, it means rescheduled appointments, missed reloads and a host of operational issues," DAT reported.
Considerations and costs for recycling stakeholders
The shifts in the freight sector have been hitting the bottom lines of recycling operators who depend on truckers and rail lines to move material through the supply stream.
Barry gave the example of a Colorado recycling plant that ships old corrugated containers (OCC) to a mill in Oklahoma. Six months ago, the cost to move that material increased from $800 to $1,100 per truckload, Barry said.
"Rail isn't any better," he said. "There is a shortage of cars there as well. And the mills don't want to eat that cost."
To protect themselves, paper mills and other bale buyers have started departing from the long-common practice of paying for material FOB (freight on board). In that scenario, the buyer pays an FOB price and sends transportation to pick up the material.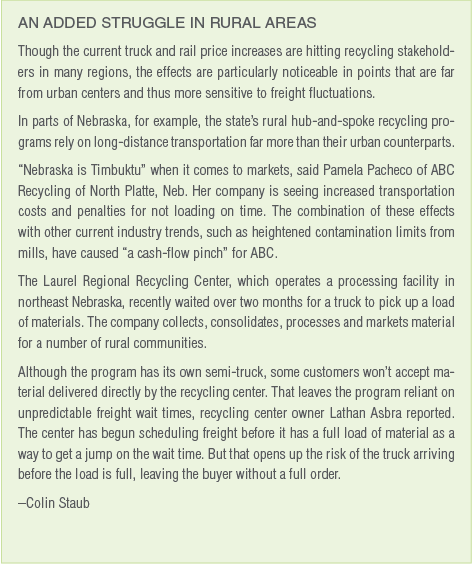 Because freight costs have swung, some mills and others are now more regularly paying recyclers a "delivered" price that includes a freight allowance. That strategy puts the onus on the MRF or other supplier to navigate the pricing challenges associated with transport today.
"It's up to the supplier to try to find a freight rate where they can still make some money," Barry said. "It can be like pulling teeth."
Jason Lavelle, a trader for American Fiber Services LLC, said some mills are being forced to move away from FOB because the transportation companies they work with have realized they can leverage the supply and demand realities in the market.
Many buyers have contracts in place with freight companies, and in the past they could often expect contract prices to extend to additional transport requests they made to the freight provider. That is no longer the case.
"They are being quoted the open-market spot price, which is a lot higher than a contract price moving in other lanes," Lavelle said. "[The mills] don't want to go for it because it's just too pricey. So they will in turn go back to their supplier and say,
'We'll give you a trucking allowance, and if you can make it work, we'll go ahead and buy your load.'"
Marty Rusk, vice president of North American recycling for paper and packaging company Smurfit Kappa, isn't a fan of a delivered price. (Smurfit Kappa runs mills and recycling operations, so it plays on both sides of the equation.)
"It's ridiculous to expect a small supplier to deliver their own paper," Rusk said. "They don't have the background and the resources to get a low-cost truck. I see some mills doing that, and we do ship delivered to a mill here and the burden is on us.
Locally, that's OK. But when you're going [longer distances], the mill should have some more ideas of what to do than an individual supplier."
For stakeholders throughout the supply chain, it has also become much more expensive to get freight service on short notice.
"If you want somebody to spot a trailer to move three loads a week, you have to pay through the nose," Rusk said. "It used to be you could get a spotted trailer, and if there was enough volume, the trucker might even discount you a little because he could get in and out of your plant faster. Not anymore. You're paying for the equipment to be spotted and you're still paying a higher rate."
And the issue is starting to extend all the way back to the curb. Barry said transportation costs are causing some municipalities to reconsider whether their recycling efforts are worth it.
"A year ago, when the first rate jump took us from $600 to $900 per truckload on average, we had to tell suppliers that we had to drop OCC by $5," Barry said. "They understand it because we keep them abreast of what it going on. But sometimes people are asking whether recycling makes sense anymore. They start to ask whether they should spend their money on recycling, or a new police car or a library."
Trying to push ahead solutions
Though the current market around freight is certainly causing anxieties, there are some actions being made that could bring relief.
For instance, policy proposals on the national level and compensation shifts within the trucking industry could help boost the number of truck drivers, a fact that would bump up the supply of freight options and reduce price pressures.
At one time, 18 was the minimum age to get a commercial driver's license (CDL). Although some states still allow 18-year-olds to drive within their borders, 21 is now the minimum age for interstate hauling. Barry said that is the single biggest reason for the driver shortage.
According to one trucking analyst, the recent electronics logging device mandate will reduce overall carrier efficiency by 3 to 5 percent. That means higher costs for recycling operators that need to move material.
"Driving was a good option for people coming out of high school who weren't going to college," he said. "At Mid America, we had a bunch of drivers coming right out of high school. Today, people are established in other jobs by the time they turn 21. … It doesn't make sense that you can go to war at 18 but you can't drive a truck on a highway."
In July, the U.S. Department of Transportation announced a pilot program to permit 18- to 20-year-olds who possess the U.S. military equivalent of a CDL to operate large trucks in interstate commerce. Meanwhile, legislation introduced in the U.S. House of Representatives by Rep. Duncan Hunter, R-Calif., and in the Senate by Sen. Todd Young, R-Ind., would lower the interstate commercial truck driving age to 18 nationally.
Further, according to ATA's latest "Driver Compensation Study," published in March, driver pay has climbed.
The median salary for a truckload driver working a national, irregular route was more than $53,000. That represents a $7,000 increase (15 percent) compared with ATA's previous survey in 2013. Private fleet drivers saw their pay rise to more than $86,000, from $73,000, representing a gain of nearly 18 percent compared with 2013.
Bob Costello, ATA's chief economist added that fleets were offering generous signing bonuses and benefit packages to attract and keep drivers.
"I expect that trend to continue as demand for trucking services increases as our economy grows," he said.
It's also true that not all areas of the country have experienced pronounced pains in freight.
Richard Valle, who serves both as chair of the Alameda County (California) Transportation Commission and president of Tri-CED Community Recycling, in Union City, Calif., said there is no trucking shortage in his region.
"The Bay Area has a lot of drivers available looking for work," Valle said. "They have their own trucks, so we have never had an issue getting drivers to run loads. But they do take one to two hours getting in and out of the port. On the way to the airport this morning the two right lanes of the highway were literally lined up with overseas containers."
Rusk said Smurfit Kappa has protected itself from trucking interruptions by running its own fleets – at its network of recycling centers as well as at its mill in Forney, Texas.
"Cost accountants feel that they are going to save a few dollars and avoid the liabilities by using third parties," Rusk said. "Having our own fleet to handle a great deal of our volume isn't necessarily cheaper, but it is a lot more reliable. … In my book, the correct answer is to use a combination of our own fleets and outside carriers."
Ken McEntee is editor and publisher of The Paper Stock Report (paperstockreport.com), which tracks paper recycling markets. He can be contacted at [email protected]