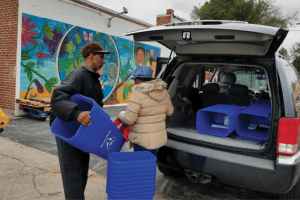 In the city of St. Louis, a relatively young recycling program has gone all-in on outreach and education efforts. And local residents have responded with enthusiasm for the city's diversion initiatives.
St. Louis recycling collection began in 2011. Before that, there were drop-off recycling containers, but only collection for trash and yard waste.
In the first year of the program, collected tonnage grew from 400 tons in January to 1,100 tons by the end of December.
"Just by giving people a bin to put their recycling in, that's where we saw that particular increase," said Elysia Musumeci, sustainability outreach and education coordinator for Saint Louis City Recycles, the city's recycling education and outreach department.
The city has seen an increase in residential rates in the seven years since the program launched, and diversion is currently sitting at about 13 percent.
Outreach spawned by participation goal
Not long after completing the initial rollout, the city began tackling several points for improvement. There wasn't a lot of recycling education and outreach in the beginning; efforts focused on just getting carts to residents and placing dumpsters.
But when the city adopted a wide-reaching sustainability plan in 2015, one of the key goals was to increase recycling participation, with the plan seeking to double participation among the public.
"That's when our outreach team formed," Musumeci said. Saint Louis City Recycles works to educate the public on how to properly recycle materials.
Recycling collection service is provided by the city's refuse division, and the program serves about 140,000 households.
Roughly 20,000 of them have individual roll carts and curbside service, and the remaining 120,000 are on a relatively unique shared-receptacle system that takes advantage of the city's multitude of alleyways.
"With the alley, a dumpster can service four to six homes on average," Musumeci said. "A lot of our residents really love the dumpsters. They love the convenience."
Beyond curbside and alley collection, the city provides 60 drop-off recycling locations scattered around various public buildings and other central locations.
Once collected by city crews, material travels to the privately owned Resource Management Companies MRF.
'The blue bin basics'
To try to double residential recycling participation, city officials have been addressing several challenges cited by residents.
"We spent the first year-and-a-half doing research and developing our strategic plan," Musumeci said.
One of the recurring problems was a lack of understanding among the public about which items were accepted in the city's program. The outreach team took on this problem by developing what Musumeci described as the city's recycling brand.
"We call it our 'Blue Bin Basics,'" she explained. The program compiled a list of the standard categories of recyclables, which Musumeci described as the six materials that residents should always be recycling: paper, cardboard, plastic bottles and containers, glass bottles and jars, cartons and metal cans.
Besides simplifying the list, the outreach plan includes some basic advice for recycling all materials: "Keep items loose, clean and dry, and no plastic bags."
The outreach team developed what it calls the city's Ultimate Waste Disposal Guide, which includes tips about how to implement good recycling practices within a household. One of its goals, Musumeci explained, is to make recycling a social norm in the city.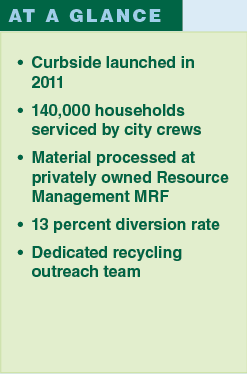 Beyond the city's sustainability plan, regional leaders are working on a project that would integrate recycling efforts between different municipal programs in the area.
"As people move within the region they're getting different messages," Musumeci said. "We want to make sure everyone understands that recycling is a regional effort."
Part of the regional goal is to increase the diversion rate across the "waste shed" of different municipalities to 30 percent by 2030, which would be double the current level.
Targeting initiatives to meet needs
At seven years old, the city of St. Louis' program is relatively young compared with other large cities' recycling programs, many of which date back to the early 1990s. But that doesn't mean a lack of interest among the city's population.
"One thing we found as we go to neighborhood meetings is that everyone is excited by recycling," Musumeci said. "They want to do the right thing and they want to have a clean neighborhood. It's just as simple as getting them the right information."
In visits to the city's 79 designated neighborhoods, the outreach team gauged the biggest obstacles residents were encountering that prevented them from recycling more. Beyond not knowing which items were recyclable, residents reported not having a convenient collection space inside their home.
Particularly for households on the alleyway dumpster system, a lack of in-home recycling space meant they might only think about the recycling option once they are taking the trash out.
"That was one of the biggest barriers we found: 'I don't have a place to collect recyclables in my home,'" Musumeci said.
In response, the city applied for funds through the local solid waste management district and used the money to purchase in-home blue recycling bins that can be used to collect material before it's taken to the curb.
The outreach team has limited staff, so another of its initiatives has been to establish local recycling leaders within neighborhoods. These individuals are known as recycling ambassadors, and they share that information and updates about local issues and successes with the outreach team on an ongoing basis.
"That's how we learn what new strategies we should be exploring," Musumeci said. "It's really just talking to the residents and seeing what they need."
This article originally appeared in the October 2018 issue of Resource Recycling. Subscribe today for access to all print content.
Think your local program should be featured in this space? Send a note to [email protected].