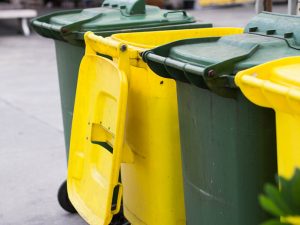 Sunday marks 48 years since the first Earth Day, an annual event full of recycling-related events and announcements. This year, plastics are at the center of the conversation. 
Earth Day Network, a nonprofit group at the center of the action, is bringing attention to a multi-year campaign called "End Plastic Pollution."
"Our goals include ending single-use plastics, promoting alternatives to fossil fuel-based materials, promoting 100 percent recycling of plastics, corporate and government accountability and changing human behavior concerning plastics," according to the group. (Earth Day Network is closely associated with Earth Day, but the annual event is not organized by any single group or entity.) 
The following is a selection of Earth Day recycling announcements:
Chemical industry perspective: Steve Russell, vice president of the plastics division of the American Chemistry Council (ACC), wrote in response to the plastics focus of some groups on Earth Day this year. Arguing that bans on single-use plastic items will cause more environmental harm, Russell said the key to preventing plastics pollution is boosting collection and recycling infrastructure in developing countries, and he pointed to industry efforts on that front.
Outreach tools available: The Recycling Partnership is highlighting outreach tools it has available for programs wanting to reach residents on Earth Day. The nonprofit group's website has recycling messages available for free, including a top 10 recycling myths flyer.
Electronics recycling: The occasion has also drawn a number of announcements related to electronics recycling. Toronto-based Computation will donate $1 to Tree Canada's Grow Clean Air program for every computer dropped off for recycling during Earth Week. Phobio, which recycles and resells trade-in mobile phones, released an infographic with information on the lifecycle of a mobile phone, including the benefits of recycling and reusing them. Staples is offering a $10 discount on future purchases for customers who bring in old electronics for recycling during Earth Week.
Sustainability discussion: The Plastics Industry Association will host an Earth Day Twitter chat @PLASTICS_US to discuss trending topics in sustainability. Participating in the April 18 online conversation will be representatives of Plastics Technology, Dow Chemical, the Plastics Industry Association, Envision Plastics and the Sustainable Packaging Coalition.
Message in the sky: Airline JetBlue has partnered with The Ad Council and national nonprofit Keep America Beautiful to raise awareness about the benefits of recycling. The company is donating space and running the "I Want to Be Recycled" public service announcements on all flights throughout April.
Organics composting: The Washington, D.C. Department of Public Works (DPW) announced that it has reopened food scraps drop-off points throughout the city in honor of Earth Month. On Earth Day weekend, DPW will give away kitchen caddies to the first 50 participants at each drop-off location to help residents compost food scraps. The first citywide food scraps drop-off program was kicked off during Earth Day last year.
Outreach campaign: The Associated Recyclers of Wisconsin and its Recycle More Wisconsin program are using Earth Day as an opportunity to promote recycling efforts statewide. The association is using social media to educate residents about recycling in general, and to spread the word about local recycling celebrations around the state. The campaign is stressing the environmental, social and economic benefits recycling brings to the state.
Batter up: When the New York Mets meet the Washington Nationals for their Tuesday, April 17 game, Recycle Track Systems (RTS) CEO Greg Lettieri will throw the first pitch in honor of the upcoming Earth Day. In a press release, RTS explained it is also co-sponsoring an effort to help collect recyclables within the stands during game breaks.
Golden State activities: California state government has compiled an exhaustive list of statewide Earth Day events, many of which touch on recycling. One event, the American River College Earth Day festival in Sacramento, made "Zero Waste by 2025" its theme this year.
Toy recycling: Hasbro has teamed up with TerraCycle to launch a toy and game recycling pilot program. In honor of Earth Day, consumers in the Lower 48 can visit hasbrotoyrecycling.com to sign up for the free mail-in recycling program.
Looking back: It's been three decades since the Seattle metropolitan area began formalized curbside collection of recyclables, and in honor of Earth Day, a local expert has detailed some of the changes in recycling through the years. In a column for the Redmond Reporter newspaper, Michelle Metzler of Waste Management charts the evolution of local programs, beginning when Seattle and Waste Management launched curbside collection in 1988.
Recyclables Roadshow: An April 21 "You CAN Recycle That: Recyclables Roadshow" in Hershey, Pa. will feature speakers from Waste Management of Pennsylvania and local group Derry Environmental Action Committee. Attendees will be asked to bring one or two thoroughly washed items, and the speakers will explain whether they're recyclable. All attendees will receive a reusable bag.
Glass recycling returns: After a nearly three-year hiatus, the city of Harrisburg, Pa. will bring back glass recycling. The drop-off program, which launches on Earth Day, will accept glass bottles and jars at 10 locations throughout the city, according to PennLive.com.
Photo credit: Supaporn.c/Shutterstock