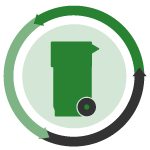 A barcode scanning innovation tells consumers the details on product recyclability, and a Canadian organization explains how the proposed materials ban in China could affect the recycling industry in one province.
Compostables rejected: Republic Services is rejecting the inclusion of compostable plastics in organics carts in Corvallis, Ore., saying they don't break down fast enough. The Corvallis Gazette-Times reports the hauler is not accepting bio-derived plastic cutlery and cups, and is even turning away corn-based plastics developed by a local company in partnership with nearby Oregon State University.
Barcode outreach: It's tough to communicate to the consumer how to recycle different products, and a French company is offering a new solution. Reuters reports on a barcode scanner that's being developed to allow customers to scan a product and be told how it should be recycled. Uzer, the company behind the project, has more than 200,000 products in its scanner database and is working to partner with retail outlets, according to the report.
Glass creativity: A project is looking for new end uses for recycled glass, and is seeking input from recycling industry stakeholders, city officials, researchers, planners and others. The Recycled Glass for Cities Challenge, which is backed by an unidentified food and beverage company, asks participants to propose innovative ideas for glass use that will benefit cities. The three most popular ideas will score monetary prizes.
China's upstream impact: The Continuous Improvement Fund has compiled some information to address the possible ripple effects in Ontario of a ban on imports of certain recovered materials into China. The write-up notes that the timing is particularly poor considering the closure of other downstream outlets including the QRS plastic recovery facility in Baltimore and Resolute Forest Products' paper mill in Ontario. But the article also points to the province's upcoming transition toward a full extended producer responsibility system, and opines that development could offset some of the negative impact.
Comments on China: In other news related to the announced ban, the National Waste and Recycling Association (NWRA) has responded to China's proposed ban on imports of certain recovered materials, calling for more clarity and asking Chinese officials to delay the ban's implementation. In its letter, the NWRA writes that it agrees with China's goal of improving the quality of imported materials, and suggests that officials adopt policies that more specifically address that issue.
Cracking down: The Daily News of Newburyport reports that the City of Newburyport, Mass. has had enough with its costly contamination problem. After "Oops" tags failed to solve the issue, the city is now simply not servicing households with severely contaminated recycling carts.
Looking down the drain: It's been two decades since New York City officials lifted the household ban on in-sink garbage disposal devices, but residents have been relatively slow to install them in their homes. A story in CityLab examines some of the reasons behind that trend, delving into the pros and cons of kitchen garbage disposal devices and comparing their food waste diversion results with those of curbside organics programs.
Diversion drive: A legislative plan to raise Michigan's recycling rate is in the works, and one of its tactics is to collect more data. According to local NPR radio affiliate WEMU, the legislation would require counties to track how various types of waste are handled and also to lay out plans for achieving 30 percent diversion.
Rate race: Also on the topic of statewide measurement, Colorado is hoping to drive its diversion rate beyond 19 percent, and it has adopted its first-ever statewide goals to back up that hope. Colorado Public Radio reports the state aims to reach the national average of 34 percent diversion by 2026, and to hit 45 percent diversion by a decade later.