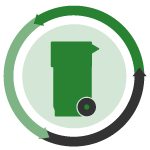 Low commodity prices lead Australian recycling companies to stockpile recyclables, and a lack of multi-family recycling requirements turns recycling into a luxury amenity in Texas.
Stockpiles Down Under: Low commodity values are leaving recycling companies in Melbourne, Australia with few viable downstream outlets for recovered materials. The Sydney Morning Herald writes that the situation has led to stockpiles, which, in turn, have been cited as a contributing factor in several high-profile blazes.
Re-defining recycling: The City of Sioux Falls, S.D. will no longer count yard debris as "recycling" when it comes to haulers meeting a local annual benchmark. The Argus Leader newspaper reports the city requires that 23 percent of the material collected by haulers must be recyclables, otherwise they can face a fine. Starting next year, yard debris won't count toward that amount.
OCC outreach: Corrugate will be banned from landfill disposal in Lincoln, Neb. beginning next year, and city officials are considering an outreach project to encourage recycling. The Lincoln Journal-Star newspaper reports the city is looking into a three-year, $850,000 contract with two companies that will conduct research on locals' recycling habits and determine how to increase corrugate recovery.
Manitoba milestone: Seventy percent of used drink bottles in Canada's Manitoba province were recovered in 2016, according to a report from the Canadian Beverage Container Recycling Association. The report describes the work carried out through the group's Recycle Everywhere program and states it has led to a 28 percentage point increase in the recycling rate over six years.
Parting wisdom: Chaz Miller is retiring after more than 40 years in the recycling industry, 26 of which were with the National Waste and Recycling Association. In a Q&A with Waste Dive, Miller describes the many changes the industry has seen in four decades and advises the next generation of recycling leaders to "be skeptical."
Income inequality: When multi-family properties are not required to provide recycling service, recycling can turn into an amenity only available at luxury apartments. An article on commercial real estate website Bisnow explores how cities in Texas are being affected by optional service at apartments and condos.
Possible dealbreaker: The City of Shreveport, La. is considering ending its 10-year deal with Pratt Industries, because its low recycling rate has failed to increase for several years. KSLA News reports the city's deal with Pratt specified the hauler would collect materials and educate the community about recycling, with the goal of achieving 20 to 30 percent diversion. As is, the city sits at an 8 percent diversion rate.
Removing glass: The weight of recyclables collected in a Virginia county dropped by 10 percent after the removal of glass from the drop-off program. Frederick County dropped glass last fall after the company that was taking it decided to charge a $72 per ton tipping fee, according to The Winchester Star newspaper.