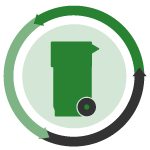 Ironically, ending curbside glass collection increases a Tennessee city's glass recovery volumes, and a labor showdown in New York may be leading toward a MRF strike.

Correcting the record: A recycling coordinator is working to quash rumors that Indiana University of Pennsylvania combines its collected recycling with garbage and disposes of it all together. The Penn student newspaper writes that despite the coordinator's efforts, which have included posting a rap video to YouTube about the recycling process, the rumors have persisted for years and students want more proof that materials are being recycled.
Collection comes to a halt: Seattle Public Utilities workers came to the rescue after a sinkhole briefly trapped a recycling truck last week. The West Seattle Herald newspaper reports the hole, which was seven feet in diameter and between four and five feet deep, may have been caused by a nearby broken pipe.
Busted baler: Recyclable materials in Grand Rapids, Mich. will be burned for energy recovery for the near future, following the breakdown of a baler at the local MRF. According to MLive.com, the mechanical malfunction is the second the baler has experienced in three months.
Surprising boost in participation: Knoxville, Tenn. ended its curbside glass collection at the beginning of the year, citing the detrimental effects glass was having on other single-stream materials. But local NBC affiliate WBIR finds that rather than stymying glass recycling, the change has actually prompted an increase in glass collected at drop-off centers.
Dangerous contamination: A bomb squad was called in to a San Francisco Bay Area MRF after employees discovered a hand grenade while sorting materials. According to the Bay Area CBS affiliate, the grenade was ultimately found to be harmless, although it caused an evacuation of the MRF as a safety precaution.
Textiles in depth: Textile and apparel waste generation increased nearly twice as fast as for plastics, metals, food scraps and yard debris. In a blog post, Resource Recycling Systems expands on these trends, which were first reported in a January 2017 Resource Recycling magazine column, and offers some reasons for the increase.
Talking transparency: Requiring drop-off garbage to be placed in clear bags increased a Canada town's diverted tonnages by 5 percent in one year. The Continuous Improvement Fund writes about the results in Kearney, Ontario, where garbage attendants were able to see what was in the bags and would talk with residents about which items in them were actually recyclable.
Cutting costs: Curbside recycling in a Florida community could be on the chopping block as bids for collection service came in between three and five times higher than current rates. According to the Ocala StarBanner, the Ocala City Council directed city staff to negotiate with the haulers over the skyrocketing rates, but if no compromise is reached, the council expressed a willingness to cut the five-year-old recycling program.
Strike draws near: Workers at a New York City MRF may go on strike over management's refusal to recognize their membership in a union. The New York Daily News reports that the workers unionized with the Teamsters in December, but the union alleges Sims refused to bargain with them and engaged in retaliatory tactics.
Dime deposit: The Connecticut governor's proposed budget would raise the bottle deposit from 5 cents to 10 cents, yielding an additional $12 million to the state in the form of unredeemed deposits. The New Haven Register writes that officials consider the proposal to have the added benefit of increasing redemption rates, which have fluctuated widely but came in at roughly 42 percent at the end of 2016.
Education effort: Several major brands are partnering to fund an integrated recycling education and awareness campaign in Flint, Mich., according to national nonprofit group Keep America Beautiful (KAB). Funded by Coca-Cola, Nestle Waters North America, the PepsiCo Foundation and the Wal-Mart Foundation, the project will reach all 10,000 school students in Flint.
Baler death: A 24-year-old man died last week in an accident at an Akron, Ohio MRF. According to a cleveland.com news report, the incident took place just after 4:30 a.m. Feb. 22, when the employee of Greenstar Recycling became trapped in a baler. The Occupational Safety and Health Administration is investigating.