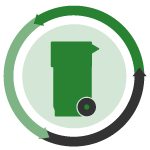 Miniature liquor bottles are proposed for inclusion in a state's bottle bill, and building tenants in Chicago make some noise after their landlords' failure to provide recycling service.
Public pressure: As You Sow, a nonprofit advocacy organization, is asking four large companies that commonly use expanded polystyrene packaging to stop using the foam products. In a press release, the organization announced that it filed shareholder proposals with McDonald's, Amazon and Target, and it's in talks with Walmart.
Paper recycling acquisition: The consolidation in the paper recycling sector continues unabated. In the latest news, Integrity Fiber in Indianapolis, the three-year-old recycling division of Schwarz Partners, has acquired 30-year-old River Valley Paper, which is based in Akron, Ohio. The combined operation is expected to handle more than 500,000 tons of fiber and plastics annually from five plants nationwide.
Seeking answers: Recycling rules in Labrador, Canada are confusing to some residents, particularly the lack of curbside recycling programs. John Gaudi, a reporter at CBC News, takes a look at the difficulties and the reason behind the confusion.
Creative currency: High school students in Kentucky have invented a machine that accepts plastic bottles as payment to charge portable devices. Local ABC affiliate WKRC reports on the students' project, which was an effort to encourage recycling while adding electrical outlets and saving power.
Rate boost: A curbside collection program in Hancock, Mich. increased its participation by 50 percent, according to local NBC station WLUC. The city attributed the boost to switching from monthly to weekly curbside recycling collection.
MRF move: A longstanding Oregon MRF is closing its doors in April, after the property was sold and the new owner declined to renew the facility's lease. The Beaverton Valley-Times reports that the Far West Recycling facility will leave the Portland suburb of Beaverton and is in need of a new home.
Paper merger: WestRock has purchased Multi Packaging Solutions for a total value of nearly $2.3 billion, according to a press release. WestRock is a large corrugated paper manufacturer, while MPS designs and produces various types of paper packaging.
Illinois ire: Residential and commercial buildings are accused of shirking their legal responsibility to provide recycling for tenants, the Chicago Sun-Times reports. A host of complaints from tenants has led to enforcement that could mean fines if the building owners do not offer recycling within 30 days.
Liquor bottle bill: Miniature liquor bottles in Maine could be included in the state's bottle deposit program. The Bangor Daily News writes that lawmakers are proposing adding the small bottles, which are available for purchase at convenience stores across the state.