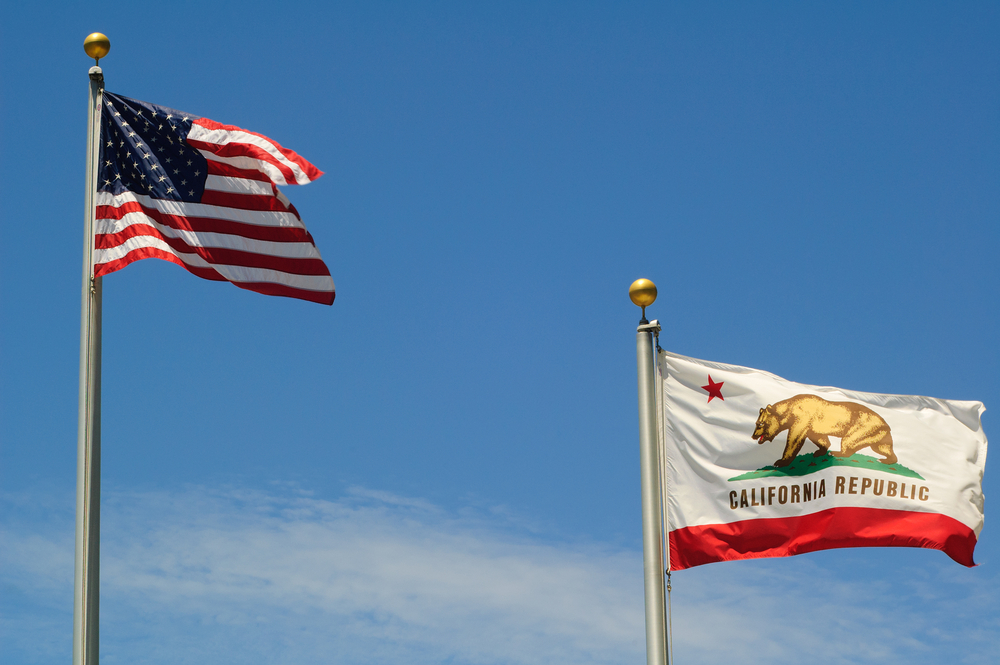 California voters want a statewide ban on single-use plastics bags, and they'd like stores to keep the fees charged for paper and reusable bags, election results show.
Voters are supporting Proposition 67 with 51.9 percent of the vote, according to results. A "yes" vote on that measure affirms a statewide ban approved by lawmakers.
But a spokesman for the campaign supporting the ban said the vote is not yet a done deal, noting that millions of ballots that were mailed in still need to be received and counted.
"We're not declaring victory yet because there's still three million votes out. We're cautiously optimistic but that can change," said Steven Maviglio, a spokesman for the campaign supporting the ban. "The champagne is on ice here but we're not popping the corks."
Ban opponents, however, have conceded defeat.
"With the narrow approval of Proposition 67 California voters have unfortunately set themselves up for a serious case of buyer's remorse," Lee Califf, executive director of the American Progressive Bag Alliance (APBA), said in a statement.
Voters definitively defeated a related measure, Proposition 65, which concerned the fees state law requires be charged for paper and reusable bags under the statewide ban. Under the bag ban approved by lawmakers in fall 2014, grocery stores get to keep those fees, but Proposition 65 steers them into a state environmental fund. It was supported by bag manufacturers.
Proposition 65 failed with 54.4 percent voting against it, election returns show.
Milestone moment
The decision by millions of voters in the Golden State will mark a major milestone in the years-long battle over a statewide bag ban.
Regardless of the statewide vote, however, roughly half of the state's nearly 40 million residents are already covered by locally imposed bag bans and fees. Rejecting a statewide ban would still leave those local policies in place. In July, San Diego became the latest major city to approve a bag ban.
Bag manufacturers hoped to stop a statewide ban in California to prevent the spread to other states. Some states have taken the opposite approach, however, passing statewide bans on local bans. Those include Arizona, Florida and, more recently, Wisconsin and Indiana.
Leading into the election, it was unclear what voters were going to do. An Oct. 7-13 survey by the Calspeaks Opinion Research Center at Sacramento State University showed 45 percent of voters in favor of banning plastic shopping bags, 39 percent against the ban and the remaining 16 percent undecided. The margin of error for those numbers was plus or minus 7 percentage points.
Campaign funding
Opponents of the bag ban raised nearly three and a half times the contributions that ban supporters did, according to a recent analysis of campaign finance data.
The American Progressive Bag Alliance, a special project of SPI: The Plastics Industry Trade Association and funded by bag manufacturers, raised about $6.1 million.
Of that amount raised, 45 percent ($2.78 million) was contributed by Hilex Poly Co. of Hartsville, S.C.; 19 percent ($1.15 million) was from Formosa Plastics Corporation U.S.A. of Livingston, N.J.; 18 percent ($1.1 million) was from Superbag Corp. of Houston; 15 percent ($947,000) was from Advance Poly Bag of Sugar Land, Texas and the remaining 3 percent was from a variety of other companies. The contributions were given over the last two years.
The ban supporters included a varied mix of grocery stores, environmental organizations and recycling industry members. As of Nov. 7, the six campaign groups supporting Proposition 67 raised a total of $1.8 million. That was up from about $1.4 million 12 weeks ago.
The major contributors: A group called "Yes on 67-Protect the Plastic Bag Ban" provided 52 percent ($949,000), the California Grocers Association contributed 23 percent ($419,000), a group sponsored by Environment California raised 17 percent ($302,000) and others contributed the remaining 8 percent. Most of the contributions were received over the past two years, although some of it was raised by the California Grocers Association as early as mid-2012.
Cited by ban supporters as a powerful ally is the Monterey Bay Aquarium, which has come out strongly in favor of the ban, according to the The Mercury News. The executive director of the Monterey Bay Aquarium Foundation gave $105,000 to the effort to uphold the ban.
The sums raised were less than earlier predictions from both sides' spokesmen, who noted this fall's crowded field of 17 measures on the California ballot and the need, generally, to spend large sums to get voters' attention in the Golden State.
Maviglio previously described the $6.1 million as "petty cash" in California elections. He recently said the bag manufacturers ended up slowing their contributions because they knew they were going to lose.
"They read the writing on the wall," he said. "Every poll – including their own – showed strong support for the plastic bag ban. Throwing another $30 million to $60 million down the toilet would have been political malpractice."
Jon Berrier, a spokesman for the APBA, said the group made the decision to spend the money to get the issues on the ballot and let voters decide. Campaign communications were primarily through earned media, along with some digital advertising.
Proposition 67 was always expected to be a close vote, although, with such a crowded ballot, it was difficult to forecast what voters would decide, he said. Given that California is such a heavily Democratic state, the narrow margin of approval illustrates the fact there isn't much enthusiasm for bag bans, he said.
Califf expressed disappointment with the votes on both propositions.
"While we are disappointed in the narrow passage of Prop. 67, we are even more disappointed that voters said 'no' to Prop. 65," he said. "Now, instead of bag fees going to an environmental fund, grocers will keep hundreds of millions of dollars in new profits without providing any public benefit. This type of special interest giveaway cloaked in false environmentalism sets a terrible public policy precedent – one that Californians will likely soon regret at the checkout."