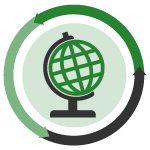 A Gaza plastics company survives polyethylene import restrictions by recycling local scrap, and efforts are afoot to create a worldwide recycling day.
United Arab Emirates: A 9-year-old boy in Dubai not only created and distributed a flier encouraging recycling – he also collected 1,160 pounds of paper for recycling. The Khaleej Times reports on how Yug Shah's long-standing commitment to recycling led him to go above and beyond while participating in the Neighborhood Recycling Project, an effort of the Emirates Environmental Group.
International: The Bureau of International Recycling (BIR) still wants to launch a global recycling day, but the first one won't be in 2017, MRW reports. BIR President Ranjit Baxi noted coordinating the day will be a significant task and he was looking past 2017 for the first iteration.
Gaza: With restrictions on importing polyethylene, a Gaza plastics company has begun recycling plastics recovered from a landfill, according to Fox News. Omar Ramlawi's decision to recycle plastics into about 1.5 to 2 tons per day of pipes, hoses and garbage bags has allowed him to preserve 50 jobs at his factory.
The Netherlands: Some officials in the Netherlands are floating the idea of placing a deposit on jeans as a way to encourage their return for recycling or reuse, according to Recycling International.