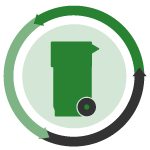 Pratt Industries sets a one-day recycled paper production record, and some Canadian grocery stores take aim at waste by eliminating packaging altogether.
Trashy attire: A filmmaker is trying to draw attention to the problem of waste by wearing each piece of trash he creates for 30 days. Rob Greenfield's documentary project is called "Trash Me."
Recycled paper record: At more than 5,100 tons, Pratt Industries recently set a one-day recycled paper production record. The firm operates recycled paperboard mills in Georgia, Indiana, Louisiana and New York.
Packaging-less grocery stores: Some Canadian grocery stores are going beyond reusable bags and eliminating packaging altogether, forcing visitors to arrive with their own containers, CBC News reports. Vancouver, British Columbia's Zero Waste Market, for example, includes no plastic packaging (meat products are not among the store's offerings).
Beer power: Researchers at the University of Colorado Boulder have developed a way to recycle wastewater from beer production into a material used in batteries, according to Environmental Leader. They used funguses cultivated in brewery wastewater to create battery electrode materials for lithium-ion batteries.