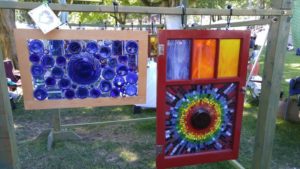 A county in Washington state has over the past decade developed a recycling promotion event that draws tens of thousands of attendees, all while supporting markets for recovered materials.
Located in downtown Vancouver, Wash. and held annually the last weekend in June, Clark County's Recycled Arts Festival was started 11 years ago to help educate and engage the public in the county of over 420,000 residents.
The two-day festival this year featured over 150 vendors selling artwork or goods made from reused, recovered or recycled materials collected in the region. Items on display included ukuleles made from recovered cigar boxes, new fashions made from scrap clothing and delicate butterflies made from used cans of soda.
But the event does more than highlight local artisans – it also acts as a powerful outreach tool.
As residents are perusing the recycled artwork for sale, they are also getting an education on diversion and sustainable activities. Sprinkled throughout the festival are numerous exhibits from Clark County's various environmental departments and efforts, such as its Master Composter & Recycler program, Washington State University's Master Gardener program and the Clark County Habitat for Humanity Store.
"Our goal with this festival is really to raise awareness about waste reduction," Sally Fisher, festival project manager from the Clark County Department of Environmental Services, said in a video posted on Facebook following the event. "And hopefully inspire [others] to be as interested and passionate about waste reduction and creative reuse as we are."
Fisher also noted more than 75 percent of the funding for the event comes from exhibition fees and the event's sponsors, a varied group including the Clark County's primary hauler, Waste Connections, as well as local financial institutions and auto dealerships.
One booth at the festival, Tossed & Found, educates residents on how some of the materials and products that they bring into their homes can be recycled, reused or composted. A craft table at the exhibit allowed kids to turn recovered materials into art of their own, with leftover reusable materials heading to the area Humane Society's ReTails Thrift Store after the festival.
If you have an outreach event that you would like highlighted in a future edition of Outstanding Outreach, please send details to [email protected].