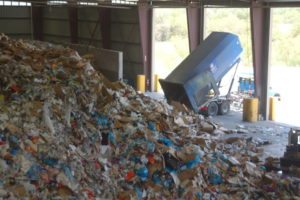 Low commodities prices and increasing contamination have forced materials recovery facilities in Great Britain to significantly increase charges to municipal partners, a survey shows.
An annual gate fee survey by the nonprofit group Waste and Resources Action Programme (WRAP) shows the impacts of falling commodity values and higher levels of contamination in new contract pricing. Those are issues North American MRFs are experiencing as well.
In the U.K., the median MRF gate fee in 2015 for contracts requiring sortation of four or more materials was 25 British pounds per metric ton ($32.60 at current exchange rate), compared with $7.82 the year before. The numbers exclude hauling costs.
Not all MRFs charge to accept material, but the percentage taking material for free decreased, according to the report.
Municipalities have a lot of long-term contracts with MRFs, which kept the median rate lower in 2015 than it would have been if all contracts had been newly inked. For example, new contracts signed in 2015 had median gate fees of $49.53, compared to $6.52 for those signed in 2014.
"[MRF operators] confirmed the need for increased risk share due to falling commodity prices and increasing contamination issues, and expect MRF gate fees to increase further," WRAP noted.
Municipal programs also foresee higher MRF tipping costs. Of those responding to the survey, 80 percent of municipal program officials said they expected higher costs connected with MRFs in the future.
The survey showed tipping materials at MRFs is still substantially less expensive than sending it to landfill because of high landfill taxes there. The median cost to tip at a U.K. landfill was $132.96 per metric ton, which includes the $104.28-per-ton landfill tax during the 2014-15 tax year.
The survey was conducted in December 2015 and January 2016.