This story originally appeared in the November 2015 issue of Resource Recycling.
Subscribe today for access to all print content.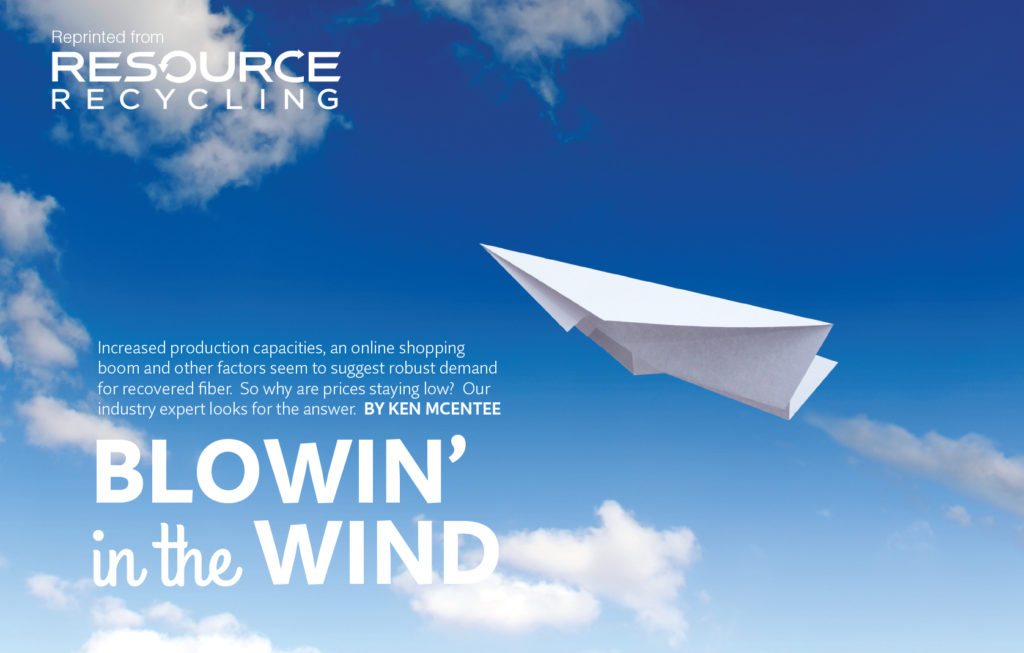 In both cases, imports – not exports – were responsible for the high port traffic. Outbound cargo from Long Beach and Los Angeles remained unspectacular. In fact, more than 60 percent of all containers leaving those ports were going away empty – a situation that was last seen around the beginning of 2009.
Along with a high availability of empty shipping containers, shipping rates are at or near historical lows, recovered paper exporters noted. This all sounds like the perfect storm to blow massive shipments of scrap paper across the ocean, creating a boon for traders.
Not exactly.
Through August, U.S. recovered paper exports were up 4 percent compared with the first eight months of 2014 – thanks mainly to a 13 percent gain in shipments of old corrugated containers (OCC). But prices remained down significantly through the year, and exporters aren't expecting that trend to change moving into 2016. With the improvement in volume being shipped to China and other markets, the average export price for OCC was down 8 percent compared with a year earlier, to $156 per ton.
"The big buyers in China are doing a good job of pushing the price down," said an exporter based in the northwest U.S. "There isn't a lot of resistance because domestic linerboard mills are fairly full. Slowing domestic mill demand and a seasonal pickup in generation makes for a bad combination. I think it's going to be a tough market for the rest of the year."
More domestic avenues
Such sour market forecasts in fiber come despite new North American containerboard production capacity in the form of a new mill and several conversions of newsprint machines to produce containerboard.
During the first week of October, Pratt Industries' new 100 percent recycled paper mill started production in Valparaiso, Ind. The mill, with a production capacity of 370,000 tons a year, primarily consumes mixed paper.
"Pratt is going be a sweet deal for suppliers in the Midwest," according to one supplier. "I think that mill is going to pull in a lot of tonnage that would have gone to export. People may get a better price on mixed paper and low-end newsprint without the risk of sending it to China and having it bounced by customs. I think it will make a difference in the Midwest market."
Meanwhile, in Quebec, Kruger Packaging LP in September officially announced plans to convert a newsprint machine at its Trois-Rivieres mill to make 100 percent recycled lightweight linerboard. A $106 million investment from the government of Quebec through Investissement Quebec gives the provincial government a 25 percent stake in the company. Once the converted machine is up and running in 2017, it will have the ability to produce almost 400,000 short tons of linerboard annually.
Other machine conversions from either newsprint or graphic paper to containerboard were previously completed or announced at Packaging Corp. of America's (PCA) mill in DeRidder, La. and Atlantic Packaging's mill in Whitby, Ontario.
Kruger said North American lightweight containerboard demand is poised for growth as packaging manufacturers seek to produce increasingly lighter and stronger products. However, a recovered paper broker in the Northeast isn't as confident.
"The additional capacity is helping to keep supply and demand in balance in some areas as export prices decline, but looking at the big picture, who is going to buy all that containerboard?" he asked. "Linerboard and medium inventories at the mills are high already and prices are dropping."
Meanwhile, a broker on the West Coast questioned the quality of the product coming off the converted machines.
"Other than PCA, I don't think the other conversions have been very successful at making good quality linerboard," he said. "Maybe they can make a lower-end corrugating medium or a lower-end Kraft or bag grade."
A broker in Colorado, however, is more optimistic about the demand for domestic containerboard, and hence, the market for OCC and other recycled fiber.
"Online shopping through sites like Amazon is the part of the economy that is growing the most, and that requires a lot of boxes," he said. "As long as people keep buying things online, I think linerboard consumption should be strong."
The Chinese factor
Similar confidence is being expressed in China. Cheung Yan, who runs Nine Dragons Paper, China's largest containerboard maker, has seen her company's production capacity shoot past 15 million short tons. That's occurred as the government has been shutting down smaller competitors.
"We are still full of confidence in China's economy," Yan stated in the company's annual report for the 2015 fiscal year, which ended on June 30. "As the economy is gradually recovering in the northern and midwestern regions of China, the market still has great potential."
That is what U.S. exporters, who ship about 30 percent of their scrap paper to China, want to hear. But whether they fully believe such hopes will become reality is another story.
"The expectations for the Chinese economy aren't always realistic," said an exporter on the West Coast. "They were growing so fast that even in a robust global economy, it probably wasn't sustainable."
Added an exporter in Colorado, "If they grow 4 to 5 percent, it's not the 6 to 7 percent some people projected, but it's still pretty good."
Like others in the industry, he noted that increased paper recovery in China is one reason why demand for imported fiber has flattened in recent years. "But a lot of people think China is pretty maxed out on domestic collections," he said. "A buyer there told me that the recovery rate in the big cities is probably 80 percent. In the rural regions it is probably 20 percent, but how do you collect it? So it is questionable whether there are going to be massive new volumes coming from the domestic collections."
Since bottoming out at a landed average price of $159.44 per short ton in May – calculated from China Customs data – the average price for a ton of scrap paper imported into China improved to around $8 per ton, to $167.96 per ton, in August. Traders, however, say prices have fallen backward again during September and October.
Through August, according to China Customs, the nation imported 4 percent more scrap paper in 2015 than during the first eight months of 2014 – from 20.5 million short tons to 21.4 million short tons. Through August, 48 percent of that fiber came from the U.S., up from 47 percent during the year-earlier period.
On a year-to-year comparison, average fiber prices, calculated from China Custom data, for the first eight months of 2015, were down 9 percent, from $179.55 per ton in 2014 to $163.69 per ton this year.
Looking only at OCC exported to China from the U.S., the average price during the first eight months of 2014, calculated using trade data from the U.S. Commerce Department, was $158.40 per ton FAS. Through August 2015, the average OCC price was down 4 percent, to $151.52 FAS.
Sustainable shipping rates?
Despite the strong U.S. dollar, which one trader suggested was inducing Chinese buyers to look more toward Europe for scrap paper, the U.S. this year is supplying a larger portion of China's import demand than last year.
However, after supplying 54 percent of the total in May, the U.S. share fell to 44 percent in August before climbing to 46 percent in September.
Some U.S. traders, however, said they wish they were able to take better advantage of the low shipping rates and the empty containers moving back to China. Since 2008, empties made up half or less of all containers departing the Port of Long Beach every year until 2014, when 51 percent left empty. This year, though August, 56 percent were empty. That number was up to 58, 60 and 61 percent in June, July and August, according to port statistics. The same percentage of empties was reported by the Port of Los Angeles for those months.
Meanwhile, at least one exporter says the low shipping rates are "not healthy."
"It's great that it translates to better (paper) prices for the suppliers, but the steamship lines cannot survive at these rates, and in the long term, that's going to be a problem," said a broker in the northwest U.S. "I feel that these ultra-low shipping rates are going to create a lot of chaos whether the steamship lines go out of business, reduce capacity or merge, because I don't think they can sustain business at these levels."
In September, westbound trans-Pacific container lines announced across the board increases in freight rates to take effect Oct. 1. Traders said rate hikes didn't happen.
"Rates have been tumbling through the summer and there was no way they were going to go up at all in October," the northwest broker said. "Now the shipping lines say they are delaying the increases until November 1. They aren't going to go up then, either."
Ken McEntee is the editor and publisher of The Paper Stock Report and Paper Recycling Online. He can be contacted at [email protected]. Find more information at www.recycle.cc.