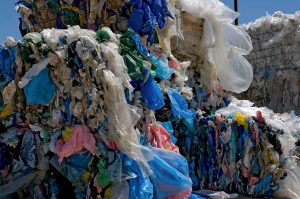 Composite lumber manufacturer Trex says low feedstock prices continue to help it achieve boosted profits in the first quarter of the year.
The Winchester, Va.-based company reported net sales of $171 million for Q1 2018, up 18 percent year over year (a portion of the increase was a result of the mid-2017 acquisition of the company's commercial products segment).
Net income during the first quarter was a record-high $37 million, up by one-third from the prior-year period.
Trex tallied a record year in 2017.
The company is one of the largest recovered film users in North America, purchasing 370 million pounds last year. It is looking to buy an additional 50 million pounds this year.
In the residential decking and railing products side, where Trex uses recovered PE film mixed with wood powder, sales revenue totalled $155 million during the quarter, up 7.2 percent, according to the company's quarterly filing. The gross margin for the residential products segment was 47.6 percent, up 2.6 percentage points from the year before.
In a press release and during a May 7 conference call with analysts, company executives said the higher profit margin was the result of three factors: lower feedstock costs, manufacturing cost savings and increased capacity utilization.
"Trex continues to benefit from the use of low-cost raw material streams, which provides a significant cost advantage," Bryan Fairbanks, the company's chief financial officer, told analysts on the call. "Also, we're investing in R&D programs to develop processes that will allow us to use a greater variety of scrap material, including lower cost and harder-to-recycle sources."
Lower PE feedstock costs have come both from a slightly weakening market for the material and from the company's efforts to use cheaper grades of recovered PE, company CEO James Cline said on the call.
"We have been very focused at trying to qualify new materials, as Trex has been very successful with this approach in the past," he said. "But we're trying to qualify these new materials that basically nobody else wants."
Photo credit: Huguette Roe/Shutterstock
More stories about brand owners