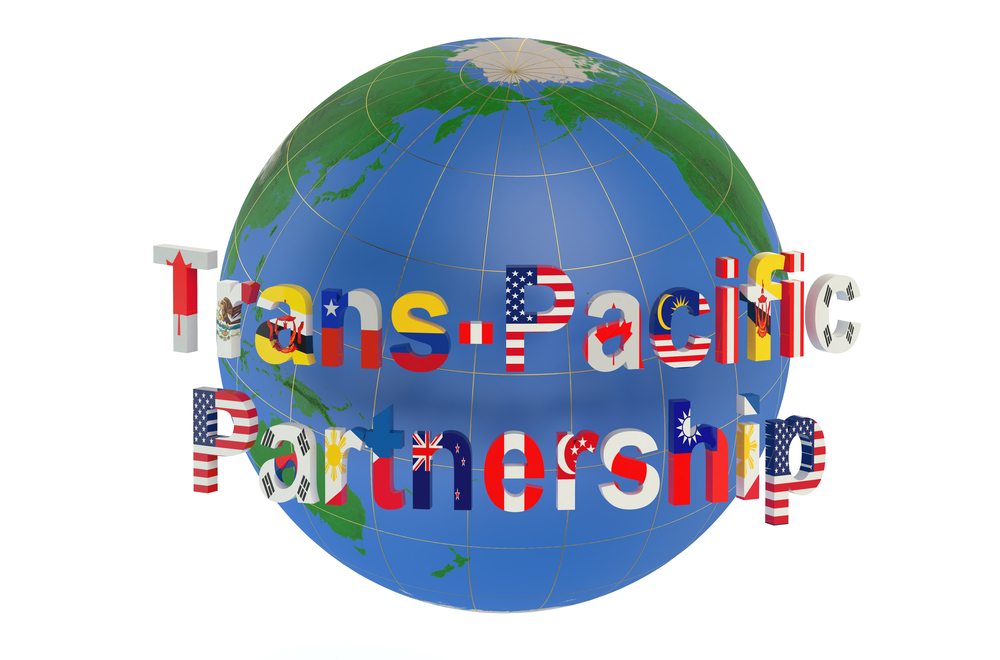 It's election season, and one hot-button issue is the Trans-Pacific Partnership (TPP), which aims to significantly boost trading relationships between the U.S. and other countries. In the plastics recycling industry, however, opinions vary on whether the treaty would be good for business.
The TPP involves a dozen countries surrounding the Pacific ocean. The goal of the deal is to boost trade and economic relationships among those countries. The TPP eliminates tens of thousands of taxes on imports and exports, including tariffs on scrap commodities and recycling equipment.
A job creator for recycling industry?
That ease-of-exports element is one of the reasons the Institute of Scrap Recycling Industries (ISRI) released a statement recently supporting the TPP and encouraging Congress to approve it.
"Opening new markets and expanding access to existing trade partners, the TPP will generate millions of dollars in tax revenue, make a positive contribution to our balance of trade, and create thousands of recycling jobs across America," ISRI Chair Mark Lewon and ISRI President Robin Wiener wrote in the statement. According to ISRI, the U.S. is the world's largest exporter of recycled commodities.
But not everyone in the industry supports the deal. Jonathan Bass, CEO of polystyrene recycling stakeholder PTM Images, said the TPP will just increase the amount of materials that go overseas for manufacturing. He wants to keep those manufacturing jobs in North America.
"America's not even in play in manufacturing anymore," said Bass. PTM Images recently opened a polystyrene recycling facility in Mexico. It recovers PS from large markets in both America and Mexico and turns it into moulding for frames, mirrors and other wall hangings manufactured by the company.
Bass added that the TPP simply creates a bloc against China, which is not part of the deal. If all 12 countries agree to the treaty, it would cover 40 percent of all world trade. Bass still doesn't think that's enough power to compete with China.
Scott Saunders, general manager for KW Plastics Recycling Division, however, thinks markets as a whole are healthier when you have free exchange.
"If you are a country like the United States, that generates raw material, you need to be able to take [the material] to whatever market is healthy," Saunders said. "And if that market is the U.S., that's fine, but if that market is overseas, you need to be able to do that. If not, you stifle the ability to grow the marketplace."
Patty Moore, CEO and president of Moore Recycling Associates, agrees with Saunders. TPP will provide "more opportunities [and] fewer barriers to moving material at a lower cost," she said. She doesn't think it will be a disrupter to the industry.
Saunders is an advocate for keeping raw materials in the U.S. – his Alabama-based company takes in polypropylene and HDPE from American sources. But he added that for plastics, it can be hard to keep material in the domestic market.
He said clean HDPE milk jugs or detergent bottles are examples of products that can be effectively processed in the U.S. "[They] do not require a lot of physical hand labor to separate, and U.S. companies do a very, very good job of competing in that world marketplace," he said.
Saunders said his company and the industry as a whole already compete with Asia, and will continue to have foreign competition whether or not the TPP is approved.
Bigger challenges than trade agreements
In the opinion of Saunders, the TPP isn't even the biggest thing facing the plastics recycling industry right now.
"A bigger reason those materials tend to be shipped overseas is the way that cities calculate their diversion rate," said Saunders. "In California … we found that if a city ships mixed materials into a California processor and they separate those materials for market in the United States and 45 percent of that material turns out to be residue and has to go to a landfill, the city doesn't get credit for all that weight. If they ship it overseas, they get credit for 100 percent of the weight."
The TPP needs to be approved by at least six of the larger countries involved in the deal. An up-or-down vote is impending in Congress, which means U.S. lawmakers can't amend the legislation in any way. The treaty needs to be ratified by February 2018.
Interestingly, the proposed trade deal is one of the few things the two U.S. presidential candidates agree on. Both Donald Trump and Hillary Clinton have come out against it.