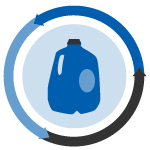 Waste Management's CEO says the company is still making some money on recycling but its return on capital is lagging, and environmentalists urge Minneapolis to ban plastic bags.
Container deposits: Massachusetts lawmakers will continue a long-running debate over the state's 33-year-old bottle bill, the Boston Herald reports. Under legislation submitted by the Joint Committee on Telecommunications, Utilities and Energy, the state's nickel deposit on soda and beer containers would be eliminated and the beverage industry would instead pay into a municipal recycling program fund over a three-year period.
MRF closures: Over the past two years, amid the fall in commodities values, Waste Management has closed more than one-fifth of its materials recovery facilities, and more closures may be coming, according to CNBC.com. David Steiner, CEO of the publicly traded company, said the company is making a little money on recycling but is seeing a very low return on its capital.
Contamination: Banning plastic bags doesn't mean they still won't appear in a materials recovery facilities and jam up machinery. That's the case in San Francisco, which is still dealing with the products years after a ban went into effect, according to The New York Times.
Compostable bags: Despite some initial flaws with bag design, the city of St. Cloud, Minn. is saving significant amounts of money by switching from standard plastic to compostable plastic bags for organics collections, according to the University Chronicle. The switch means less labor is needed removing non-compostable plastics from the organics stream at the local composting facility.
Bag ban: Environmentalists in Minnesota are urging Minneapolis leaders to ban plastic bags, and The Minneapolis Star Tribune recently published the opinions from representatives of four different groups.
Sustainability reporting: More than eight in 10 S&P 500 index companies now publish corporate sustainability reports, a big boost from just a few years ago, according to spendmatters.com. The website covered a report from the Governance & Accountability Institute, which said 81 percent of the large companies published sustainability reports in 2015, up from less than 20 percent in 2011.
Flint crisis: Companies continue to recycle the volumes of water bottles sent to Flint, Mich. to help residents who are unable to drink water from the tap because of contamination, according to WoodTV.com. The state's lieutenant governor said he hopes the free recycling of water bottles continues after the crisis is resolved.
Earnings: Shanghai Pret Composites has announced its acquisition of Wellman Plastics did not meet profit expectations in 2015, Plastics News reports. While Wellman did manage to post net profits of $3.36 million, falling oil prices hurt the value of recycled resins sold by the company and led to the less-than-anticipated gains. Shanghai Pret estimated that Wellman, which the company bought for $70 million in February of 2015, would generate more than $7 million in net profits during the year.