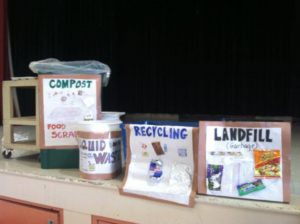 Organization: Azevada Elementary School; Fremont, Calif.
Grant: $5,000 Community Outreach Grant from Alameda County public agency StopWaste to improve food scrap recovery at the school through the Go Green Lunch Project. It was awarded for the 2014-2015 school year, and the program is now self-managing.
A California elementary school has reduced its daily food waste generation from 10 bags to one, thanks to a county-funded compost project that puts kids in the middle of the action.
Alameda County's StopWaste offers grants to get more community members involved in food scrap composting. Maryanne Koller, who was Azevada's PTA president at the time of implementation, learned of the program from another school that was involved.
"I heard about it at another meeting … and it sounded interesting," Koller said, noting parents from other schools had made food scrap diversion sound exciting and very doable.
The grant paid for equipment like city compost bins and educational materials. After some training, Azevada made the Go Green Lunch Project part of its daily routine.
"So instead of all that food waste going into the landfill, it was now going into the green bin," said Koller. "Every day would be about 10 bags of lunch debris that would go into the trash. When we started the composting food scrap program at school, it was less than one."
Azevada houses students in kindergarten through sixth grade.
Koller said students rotate shifts during lunch, to make sure everyone is following the composting rules. She added the kids are very excited about the initiative and that and it wasn't hard to get them involved. They're even teaching their parents.
"The results have been really good," she said. "A lot of the families are now composting at home because the kids are so used to doing it at school."
She encourages other schools to get involved with composting, if possible.
"It really makes a big difference," she said.
Photo credit: Courtesy of Azevada PTA Facebook page.