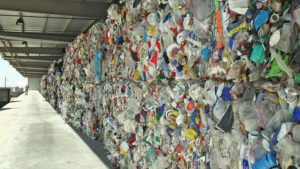 Due to challenging market conditions and technology constraints, the Atlanta division of secondary plastics recovery company QRS has declared bankruptcy.
According to Chapter 11 bankruptcy filings from the U.S. Bankruptcy Court for the Northern District of Georgia, Atlanta Division, QRS Recycling of Georgia is carrying slightly more than $14 million in debt, with just over $500,000 owed to trade creditors and more than $13 million owed to its primary secured creditor, PrivateBank.
QRS has been a major player in the recycling of mixed plastics from single-stream facilities and operates additional plastics recovery facilities (PRFs) in St. Louis and Baltimore. Those operations are not affected by the Atlanta closure, said QRS CEO Greg Janson.
"I do want to emphasize that the Chapter 11 is isolated to QRS of Georgia. No other QRS facilities or affiliates are negatively affected by the QRS of Georgia filing," he said in an interview.
Handled 39 million pounds annually
According to Janson, the company's Atlanta site had been in operation since 2011 and was handling about 39 million pounds of mixed plastics per year. He pointed to the PET market as a major reason for the closure.
"It came down specifically to the PET market," he said. "PET went from 19 cents [per pound] to 6, and if you're heavily reliant on PET, then you're going to be hit very hard by that. And it was a first generation PRF, so it didn't add the value to the material that other facilities do."
The company ceased operations of the Atlanta site about three weeks ago and will be liquidating Atlanta assets if the company's May 20 petition is approved. Janson noted that all material that would have gone to the Atlanta facility is being rerouted to St. Louis and Baltimore, where the company is "able to extract more value from it more efficiently."
In a statement, Janson also said "no material suppliers will be adversely affected."
The move to file for Chapter 11 bankruptcy in Atlanta, according to the bankruptcy filing, follows a period where the company attempted to "modify its operations to increase profitability." It also tried to find outside investors or buyers for the business.
A request for a Chapter 11 relief hearing was accepted and will be heard on June 14.