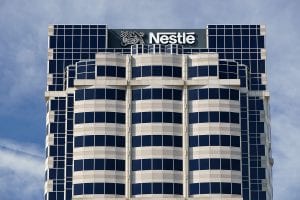 Nestlé Waters North America has signed a pre-buy agreement with CarbonLite, deepening its already entwined relationship with the PET reclaimer.
The brand owner's contract helps usher along development of CarbonLite's planned 200,000-square-foot PET recycling facility in Pennsylvania. The site, in the Lehigh Valley area of eastern Pennsylvania around Allentown, would generate 80 million pounds of food-grade RPET pellets per year.
It would also be the third location for CarbonLite, which has large PET bottle recycling facilities in Dallas and in the Los Angeles area. Those facilities already supply RPET for use in Nestlé Waters North America bottles.
The new agreement with Nestlé Waters North America, announced Nov. 15, was described as a "significant pre-buy agreement" that will enable CarbonLite to build the estimated $60 million Pennsylvania operation.
Nestlé Waters North America uses RPET in a number of its bottles, including those under the Arrowhead, Deer Park and Nestlé Pure Life brands. In February, the company launched a 700-milliliter Nestlé Pure Life bottle made with 100 percent RPET. That water brand is bottled in Allentown.
"We are pleased that CarbonLite will be locating a facility in a region important to our manufacturing footprint," Bill Trackim, head of Supply Chain and Procurement at Nestlé Waters North America, stated in the press release. "Being able to purchase rPET in the area helps us better support the regional economy while promoting environmental sustainability through the use of renewable and recyclable materials in our packaging."
CarbonLite expects its Pennsylvania facility will be in full production in early 2020.
CarbonLite began operating its Riverside, Calif. plant in 2012. The company's $62 million Dallas facility, which doubled its production capabilities, opened in late 2016.
Not all of CarbonLite's RPET goes into bottles. For example, it supplies recycled PET to an Oxnard, Calif. company it owns, Pinnpack, which makes thermoforms.
In related RPET news, plastics recycling industry groups released the 2017 PET container recycling rate.
Photo credit: Ken Wolter/Shutterstock

More stories about PET