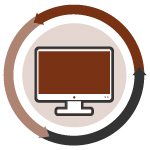 Worldwide PC shipments have taken another hit, an indication of the shifting e-scrap stream in the years to come. In addition, Samsung's problematic smartphone is going off the market.
PC purchases down: Two different reports say PC shipments declined in the third quarter of 2016. IDC notes shipments were down 3.9 percent year-over-year. Gartner says it was the eighth consecutive quarter of declines for PCs.
Exploding phones: Samsung has told its retail partners to stop selling the Galaxy Note 7 smartphone immediately. It's also asking consumers that have the phone – both new and replacement models – to stop using the device and return it, reports CNBC. The phones, particularly the lithium-ion battery, can overheat and catch fire.
Regulatory battle: An e-scrap recycling facility in Washington's San Juan Islands, which also serves as a nonprofit organization and thriftshop, could shut down by year's end because of a battle with local officials, reports sanjuanjournal.com. Community Treasures recycled 88 tons of electronics last year.
E-scrap forecast: Research and Markets has released its forecast for the e-scrap market for the next five years. The report includes information on international markets and appliances in addition to electronics recovery in the U.S.