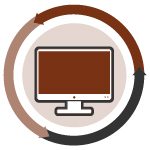 A data-erasure company says far too many used drives are not properly wiped, and a law firm pursues a class-action lawsuit against beleaguered processor Total Reclaim.
Data destruction failures: Blancco Technology Group purchased 200 used hard disk drives and solid state drives from eBay and Craigslist during the first quarter of this year. What they found: two-thirds of them still had personally identifiable information and more than 10 percent had sensitive corporate data.
Lack of recycling infrastructure: KRISTV.com reports that a lack of e-scrap recycling options has led to landfilling of e-scrap in the Corpus Christi, Texas area.
Fair game for satire: Satirical media outlet The Onion has some fun with the failure of device-repair legislation in multiple state legislatures in a recent "American Voices" piece. Among the fictional but comical comments: "I'm sick of a paternalistic government trying to save us time and money by advocating for our autonomy." Click here to read E-Scrap News' coverage of the stalled bills.
Potential class-action suit: A law firm is trying to stir up a class-action lawsuit against e-scrap recycling company Total Reclaim, which admitted to exporting broken, mercury-containing flat panel monitors to Asia. Hagens Berman Sobol Shapiro LLP, a class-action litigation firm, says it is seeking entities that would not have used Total Reclaim's services if they had known about the exports.
Insuring e-scrap recycling: Chubb, a property insurance company, provides tips on how e-scrap generators and recycling companies can reduce their risks. According to its report, e-scrap companies may want to work with experts to develop risk-management strategies.